Red Star president Vladan Lukic fines nine players
Last updated on .From the section Football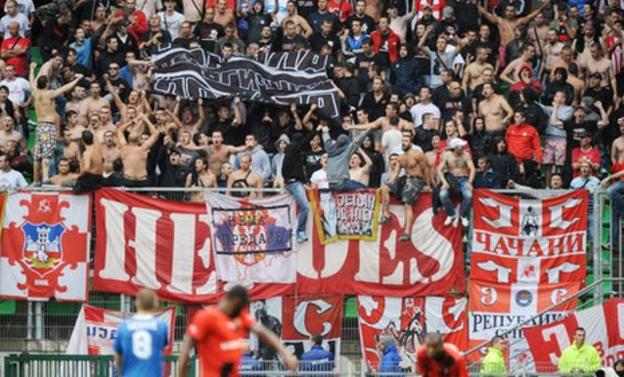 Red Star Belgrade president Vladan Lukic has fined nine of the team's players for lack of commitment - despite a 3-1 friendly win over lower-league rivals Jedinstvo Surcin.
Brazil forward Bruno Mezenga, who scored one of the goals, and defender Nikola Petkovic, were reportedly fined 5,000 euros (£4,350) each. Seven other players, including captain Nenad Kovacevic, had to pay 500 euros (£435).
Lukic said: "The club has a very clear rulebook on rewards and fines - and this was the time to give some players a timely reminder that their lack of commitment for Red Star will not be tolerated."
Red Star are coached by former Croatia international Robert Prosinecki, who is one of the few footballers to have played for both Barcelona and Real Madrid.
Prosinecki, who also made 33 appearances for Portsmouth in 2001-2002 season, added: "I concurred with the course of action taken and some of these players will be left out of the team for our league match against Novi Pazar."
Jedinstvo, who play in the sixth tier of Serbia's football pyramid, were level 1-1 with Red Star in Wednesday's match before the 1991 European Cup-winners scored two late goals.
Red Star, who are chasing their first league title since 2007, were two points behind champions and leaders Partizan Belgrade ahead of Saturday's home game with Novi Pazar.
Lukic is a former Serbia international who won the Swiss Football League title with FC Sion in 1996-97 season.