Kilmarnock manager Kenny Shiels hails son Dean and Gary Harkins
Last updated on .From the section Football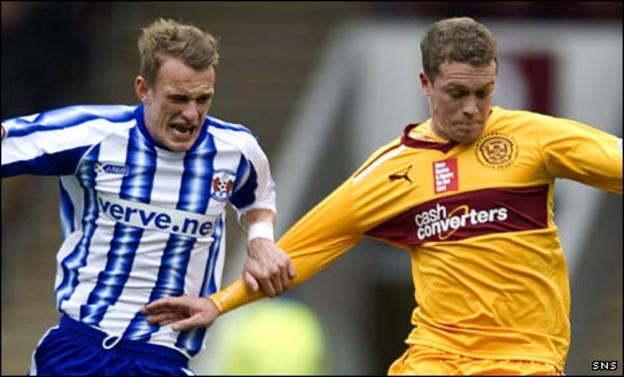 Kilmarnock manager Kenny Shiels hailed son Dean Shiels and Gary Harkins in a 0-0 draw with Motherwell he thinks should have turned into a victory.
"The creativity and invention in our play was very, very good again," Shiels told BBC Scotland.
"And I thought Dean Shiels and Gary Harkins were absolutely outstanding.
"Every time they got the ball, they looked like a threat to Motherwell and they have been doing that very well recently."
Motherwell had gone into the game in second place in the Scottish Premier League and hoping to narrow the gap with Rangers, who play Hearts on Sunday.
But Shiels thought his side outshone Stuart McCall's, who he believes resorted to long balls to striker Michael Higdon.
"We took the football out of their team," said the Kilmarnock manager.
"We forced them to play early to the front because they couldn't get the solutions to play through us.
"I felt confident then because they were going early to Higdon and over the top of our left back and over the top of our right back and that was meat and drink for us.
"And we started to attack from there and build it through and we certainly had control of the style of play and it's just unfortunate that our domination didn't turn into goals."
Kilmarnock have drawn six of their 12 league games this season, which Shiels admits is a concern.
"We need to turn draws into victories," he said.
"We came here with an attacking philosophy and we did attack. We have hit the post six times in the last five games.
"Once I get myself some balance with my emotions, I will be able to reflect on it better, but I am certainly disappointed - and for the supporters.
"The really good supporters understand what we are trying to achieve and I feel as if they are enjoying it, how we are trying to play.
"It is just, once we turn the corner, it will be great."
Shiels thought there was great quality in an exciting game despite the lack of goals.
"It was a good game of football," the manager added. "Our boys deserve so much credit for the way they are playing and sustaining their belief in the way they play and I thought they did that again.
"Our movement and our understanding of attacking and defending both were prevelent today and I feel so happy for the boys in the way they played, but I feel so disappointed for them that we did not get the just reward of collecting the three points.
"I would say it was fast with quality. I wouldn't say it was fast and furious."