Family unaware of Kenya government investigation
By Richard Connelly
BBC Sport, Nairobi
Last updated on .From the section Football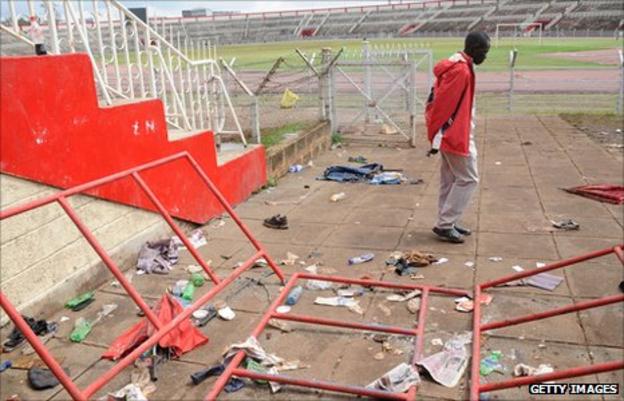 The family of a man killed in last year's Kenya stadium disaster says it is unaware of an investigation into the death of the five fans.
Mr Odinga told the BBC last week that the report will be released soon.
But Philip Otieno, whose brother Victor Juma Otieno was one of five killed, says he has no knowledge of when the investigation took place.
"I was contacted by the police two weeks ago, telling me the government intends to open an inquest into the matter," told BBC Sport.
"So we are hoping this inquest is going to provide answers that will lead to resolving the whole the mystery around the death of these young people.
"I'm shocked to hear that (the government has said the inquiry has been completed, and not published). Just two weeks ago, I was being contacted for us to attend these hearings.
"For them to say it has been completed is something that is not in our knowledge."
The crush happened during a league match between the two biggest Nairobi rivals - Gor Mahia and AFC Leopards.
Despite Mr Odinga and Kenya Sports Commissioner Gordon Oluoch's claims that the report is ready, a bereaved family member says they are still desperate for the investigation to be carried out.
"It has actually taken too long, because some of the lapses that led to these events had already been investigated before and some reports had been written," Otieno said.
"So there are supposed to be steps in place to avoid this kind of event. So I think it's too late. But any answers, however long it might take, need to come out."
"It would mean a lot to the whole country (to get answers). At this point in time, we do not need to go through these kind of lapses. We need to have proper systems in place, to take care of such eventualities."
Last year's disaster was the second fatal incident at the Nyayo Stadium in five years.
A 15-year-old supporter died during an international match between Kenya and Morocco in June 2005.
A promised investigation into that death never materialised.