Peterborough manager Ferguson angered by officiating
Last updated on .From the section Football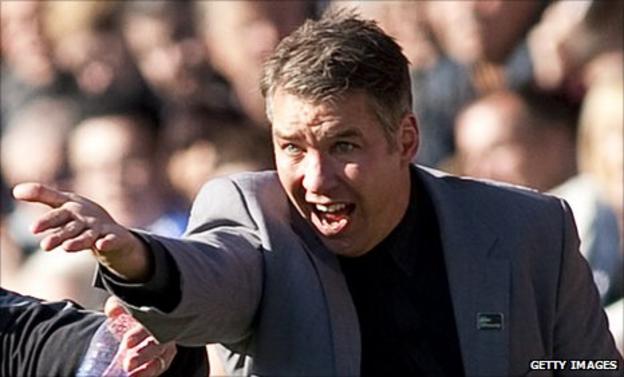 Peterborough boss Darren Ferguson has expressed his anger at the officiating in Saturday's loss to Leeds, claiming referees are "a law unto themselves".
Leeds' winner came in the 96th minute - after only four minutes of added time had been signalled.
He told BBC Radio Cambridgeshire: "It's 96 minutes, he's added four minutes, so he's got two from somewhere.
"I'm stood by the linesman who says, when he adds another two minutes on, it's time up."
The Scot, frustrated by referee Keith Stroud's time-keeping, continued: "There's another two minutes added on... what do you want me to say?
"I'm really proud of my players, they were excellent, to go down to 10 men gave us a problem and changed the game. I'd feel 11 against 11 we'd win."
Criticising the punishment system for refereeing mistakes, Ferguson drew attention to Martin Atkinson's decision to send off Everton's Jack Rodwell in the Mersyside derby at the beginning of the month.
The red card was subsequently overturned but Atkinson did not receive a sanction.
"You can't go near the officials, you can't speak to them for 30 minutes after the game," said Ferguson.
"They make decisions, change games, but it's all about them. Martin Atkinson, a blatant mistake and he still gets a Premier League game. Why? They're a law unto themselves.
"And of course they'll look at my comments, you're doing your job by asking the question, but four minutes of injury time and they score in 96 minutes.
"But don't forget it was Leeds United, so it will be OK," he added.
But the former Manchester United midfielder had few problems with Stroud's decision to send off Lee Tomlin for his challenge on Andy Keogh.
"If he [Tomlin] has done him, which I think he has, I can't tolerate things like that, it's changed the game," he said.