Nigeria part with Eucharia, Akide keen on taking over
By Oluwashina Okeleji
BBC Sport, Lagos
Last updated on .From the section Football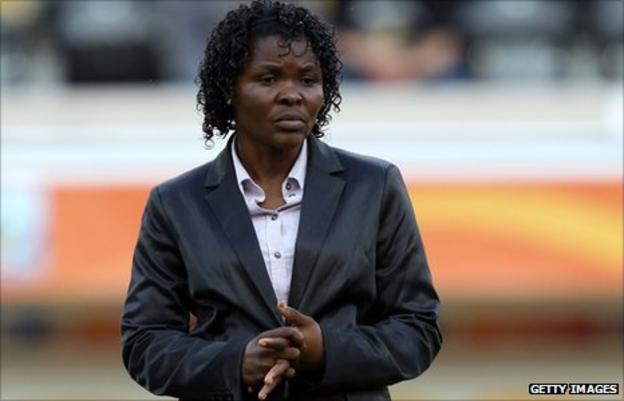 The Nigeria Football Federation (NFF) has announced that the contract of Super Falcons coach Eucharia Uche will not be renewed.
The former international leaves the post after their failure to qualify for the 2012 Olympics.
"Her contract is over and there is no extension, which is self-explanatory," said NFF spokesman Ademola Olajire.
Another former international Mercy Akide says she is interested in taking over the Super Falcons.
Despite leading the Falcons to their sixth African title last year, Uche's side failed to qualify for two major competitions.
The Falcons' failure to qualify for the 2011 All Africa Games and the 2012 Olympics in London seems to have forced the decision.
"We're very grateful to Eucharia Uche for the highly valuable contribution she made to the team," Olajire said.
"From all of us here, we wish her [Uche]every success in the future."
The NFF also denied speculation in the local media that Uche had no contract, confirming it was a mutual decision to part company.
Ademola Olajire said: "She has had a great results with the Super Falcons and has achieved many things for which we are very grateful.
"However we feel a new approach is required for the female side. There is no point reacting to speculation."
Meanwhile, former African Women's Player of the Year Mercy Akide is keen on taking over after the recent setbacks for the team.
The America-based former striker says she is keen on working with her former international team-mate Florence Omagbemi to improve the fortunes of the team.
"I am looking forward to working to with Florence, our former captain, to improve the Super Falcons," Akide told BBC Sport.
"We are really really looking forward to it because we want Nigerian football to grow.
"We live abroad now and this is what we are doing for a living and helping football here grow why can't we go back home and help our own team grow?"
With many football fans calling for a radical football reform in the country, attention shifted towards the women's team coach.
Under Uche the Super Falcons won their record sixth African in November 2010.
But she failed to qualify the team for the 2011 All Africa Games in Mozambique - the first time the Super Falcons have failed to qualify for any continental championship.
And on Saturday Cameroon stunned the African champions on penalties to clinch a place at next year's Olympics.