Michel returns to Nations Cup co-host Equatorial Guinea
By Matthew Kenyon
BBC Sport, Malabo
Last updated on .From the section Football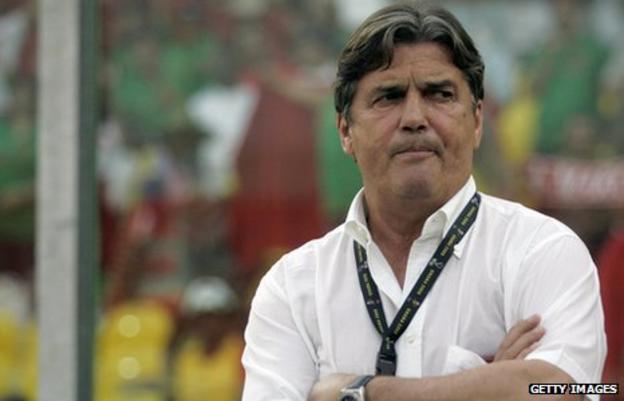 Henri Michel has returned to his post as coach of 2012 Africa Cup of Nations co-hosts Equatorial Guinea just one week after he resigned.
The Frenchman's return comes after the head of the country's sports administration Ruslan Obiang was fired.
"We have had some small problems, in that the coach resigned the other day," FA head Bonifacio Manga told BBC Sport.
"On the suggestion of the federation, he has returned to his post. He's going to stay and he's not going."
Michel clashed with the sports authorities over his selection of players for the national team, which led to his decision to quit.
The coach has now returned to the country ahead of Saturday's draw.
Michel's return comes as a massive boost for the side just two weeks before they host Madagascar in a 2014 World Cup qualifier.
"Yesterday, he presented us with a programme of activities for the 2014 World Cup preliminary against Madagascar," the Equatorial Guinea FA boss told BBC Sport.
"This morning, Michel, the sports ministry and the federation started working to profile the points that concern the organisation for that match on the 11th November against Madagascar in Malabo."
Nigerian coach Stephen Keshi was lined up as a replacement for Michel until Obiang, the son of the country's president, was given the boot.
The Frenchman first took charge of the squad in January on a contact set to expire after the Nations Cup, which ends in February.
But he quit last week after clashing with Obiang following the pair's disagreements over team selection.
Midfielder Juvenal Edjogo-Owono told the BBC that Michel's tendency to field local players above overseas-based ones created friction.
The Equatorial Guinea Football Federation (Feguifut) can breathe easy now that there is a coach in charge, less than three months before the country stages the opening game of the Nations Cup on 21 January in Bata.
The Nations Cup, which is being co-hosted by Gabon as well, will end with the final in Libreville on 12 February.