Worawi Makudi faces prospect of Fifa ethics committee inquiry
By Richard Conway
BBC Sport
Last updated on .From the section Football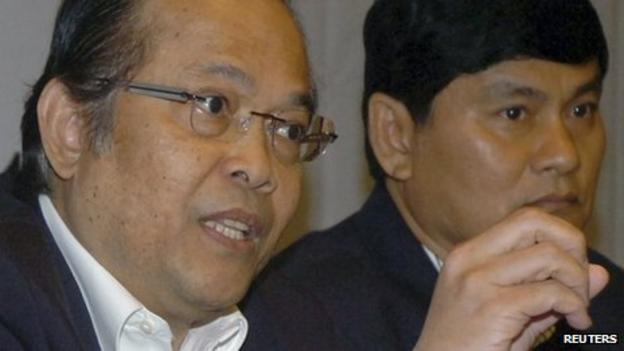 Fifa says Thai football boss Worawi Makudi will face a formal investigation by its ethics committee unless he provides proof by 1 December he did not misuse $860,000 (£535,000) of football development funding.
Thailand FA president and Fifa executive committee member Makudi is accused of using money for football projects on land that he personally owns, an allegation he denies. He maintains that the legal title for the land was transferred to the Football Association of Thailand (Fat).
A Fifa statement said: "After an in depth analysis of the documentation received so far, Fifa still considers further confirmation is required from Mr Makudi that the land has legally been donated to the Thai FA and that this donation is effective.
"Fifa has therefore asked Mr Makudi to provide by 1 December 2011 the legal provisions and documentation that would confirm this donation of land.
"Should Fifa not receive the requested legal confirmation by that date, the matter would be referred to the ethics committee."
The allegations, which were first reported by an Australian investigative journalist, claim an artificial football pitch and new headquarters for Fat were built on land personally owned by Makudi.
It is also alleged that Makudi owns other plots of land around the headquarters in the Nong Jok district, near Bangkok.
The funding for both the artificial football pitch and the headquarters came from Fifa's Goal programme, which provides money to help national associations that lack the resources to develop football in their country.
Makudi would be the sixth senior Fifa executive to face an ethics hearing since October 2010 if he is unable to provide Fifa with the information it has demanded. It is understood he would face charges in connection with a possible breach of section five of the organisation's code of ethics.
Makudi sent 30 pages of land registration documents to the Zurich offices of Fifa on 21 October this year in a bid to clear his name.
Fat received $460,000 (£285,000) of Fifa Goal programme funding in 2004 to build an artificial football pitch.
An additional $400,000 (£250,000) was given in 2007 to build a three-story headquarters to provide Fat "the necessary space for professional leadership and administrative structures," according to Fifa's website.
Additional money from the Goal programme, also intended for the Nong Jok complex, was approved by Fifa in October 2010.
Fifa has confirmed to the BBC that the money was allocated "for rehabilitation work and [the] purchase of equipment".
However, in the wake of the allegations against Makudi the project has been suspended and the work will not continue until Fifa is satisfied over who owns the land.
In May, Lord Triesman, the former Football Association chairman, alleged to a Parliamentary committee that Makudi had demanded the TV rights for a proposed friendly game between England and Thailand in return for his World Cup 2018 vote. Makudi denied that was the case.
An inquiry into Triesman's claims was then instigated by the FA. It did not find any further evidence to support the allegation.