Andy Morrell backed as manager by Wrexham legends
Last updated on .From the section Football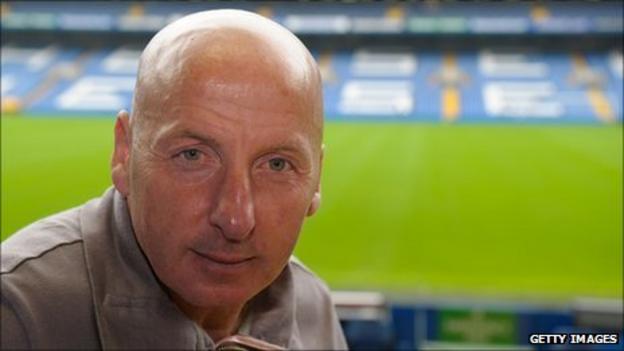 Caretaker Wrexham manager Andy Morrell has earned the backing of two Racecourse legends after revealing he has applied for the full-time job.
Mickey Thomas and Dixie McNeil are both convinced that Morrell has proven himself to be the stand-out candidate.
"There's no need to change it. He's had a magnificent time as a manager," said former midfielder Thomas.
And McNeil added: "I'd certainly give him the job until the end of the season and then look at it from there."
Morrell, 35, was given the job on an interim basis after Dean Saunders left to join Championship side Doncaster in September.
The Dragons have picked up 19 points from a possible 24 in the Blue Square Bet Premier under his guidance, opening a two point gap at the top of the table from Fleetwood Town.
Morrell, who has played some part in all eight of his games in charge, had been guarded about his intentions in relation to the full-time job.
But after Saturday's home goalless draw with Newport County, the striker revealed he wants to stay in charge.
"I bet he can't believe how good it's gone for him," added Thomas.
"They've got the best defensive record in the league and they are scoring goals as well.
"I think Andy Morrell has to have the job now. And it will probably be better financially for Wrexham to install him as manager.
"If they get somebody from outside it will be more costly for them."
The task of appointing a new manager will be undertaken by the Wrexham Supporters Trust (WST), who agreed a deal in September to take over the running of the club from the previous owners.
But the takeover has still not received approval from the Football Association or the Football Conference, delaying any decision to appoint Saunders' successor.
McNeil, who managed Wrexham from 1985 to 1989, believes Morrell has the club's best interests at heart and his knowledge of the squad makes him the ideal option.
"The simple truth is that they've played very well underneath him and they are playing a more expansive game," said McNeil.
"He's done very well and he knows all the players - that's an important factor. He knows the style of football Wrexham are playing.
"Someone coming in from the outside might tinker here and there and spoil it."
The WST hope to finally complete the takeover deal within the next few days, but McNeil fears Morrell will have to work on an extremely tight budget.
"I think we've all got that doubt if the Trust have got the money to strengthen the squad," he said.
"If Luton and Fleetwood are up there with Wrexham at Christmas then they might well go out and buy players.
"That could be the difference between Wrexham actually winning the league and getting into the play-offs."