Island FA 'failed to plan' for impact of Guernsey FC
Last updated on .From the section Football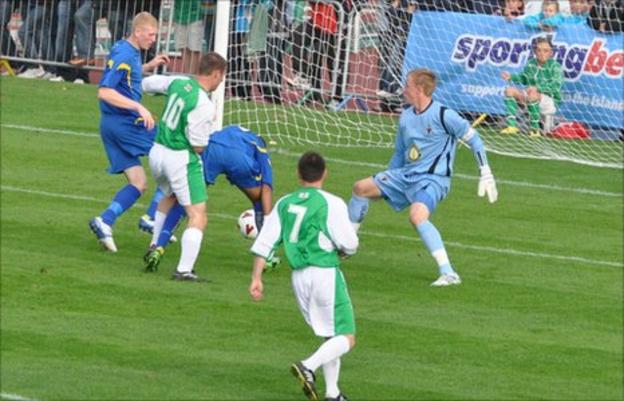 Guernsey's FA says the island has failed to plan properly for the impact of Guernsey FC on local football.
The GFA set up the club to allow players to play at a higher level in the Combined Counties League.
But when members of Guernsey FC's squad were asked to play for the island in the FA Inter-League Cup they declined, leading to a weakened side losing.
"That sort of conflict we simply didn't plan for because we hadn't foreseen it," GFA chairman Chris Schofield said.
"The key issue here is that whilst everyone went about things with the best interests at heart, collectively, and that's as a football community, we failed to plan how this change was really going to impact and look at some of these situations," Schofield added.
It has led to the Guernsey FA bringing in a rule whereby any player who declines to play for the island representative side in a Muratti or Inter-League Cup match would be barred from playing representative football for the remainder of that season.
"We have deferred to the rules of the FA that take precedence over county FA rules," Schofield told BBC Guernsey.
"The FA rules are very specific in that regard - a player is not allowed to decline to join a representative squad without good reason.
"We wanted to clarify it from our point of view. If you turn down a representative invitation we won't trouble you again this season."
Guernsey travel to Alderney for the Muratti semi-final on Saturday 17 March, the same day as Guernsey FC have a home game against Bookham.
Should they win they would take on Jersey in St Helier on Monday, 7 May.
Should Guernsey FC still have Combined Counties fixtures to play it may create a fixture clash.
Guernsey FC boss Tony Vance is also in charge of the Muratti side.
"I have no doubt that Tony will pick a team to win the Muratti," Schofield said.
Last week Vance said he wanted his players to make sure they to football on the island.
"We're all trying to improve Guernsey football," Vance said after Guernsey FC's win over Farleigh Rovers on Saturday.
"This is what the best players need, the elite players in Guernsey need to be playing against better opposition.
"This is the forum to do it, it's going to give us a better chance in the Muratti."