Jason Roberts calls for more action to stamp out racism in football
Last updated on .From the section Football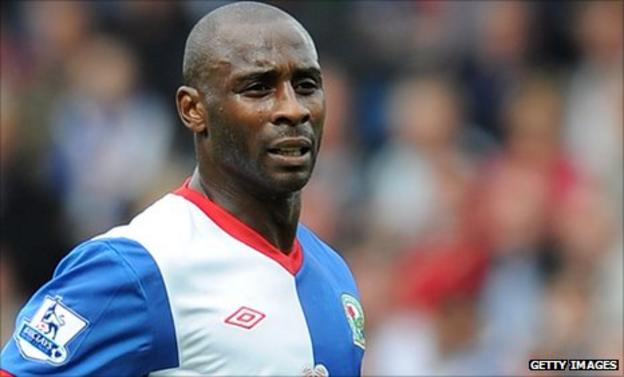 Blackburn Rovers striker Jason Roberts says that more needs to be done to stamp out racism in football.
Roberts, 33, told BBC Radio 5 live he has been subjected to racist taunts.
"It would have been about five years ago. What I should have done at the time was report it," he said.
The former West Bromwich Albion and Wigan Athletic forward insists racism is a lot less prevalent in football than it was in the past.
He said: "Is it something that used to happen all the time? Absolutely.
"In my 14-year career, I've had it numerous times. More times than I can count.
"It has certainly slowed down recently but the battle isn't won. People still need educating.
"There was an element that that's just the way it is but I would like to think we've moved on from that.
"My uncle, Cyrille Regis, who played in the 70s and 80s, put up with disgusting abuse.
"I think in this day and age we need to change that. It's not acceptable."
Roberts also highlighted the problem of crowd abuse in Europe where black players have been subjected to racist chanting.
England's Ashley Young was allegedly a victim of racist abuse during England's victory in Bulgaria in September.
Roberts added: "I don't know if people have been strong enough about that.
"We've got the European Championship coming up soon where I hope it doesn't happen. There's a strong possibility it will.
"As much as I believe that football is the world's game, there has to be some things put in place that the black players or ethnic minority players don't have to put up with chants from the crowd and players racially abusing them."