Tynecastle development 'not viable' for Hearts
Last updated on .From the section Football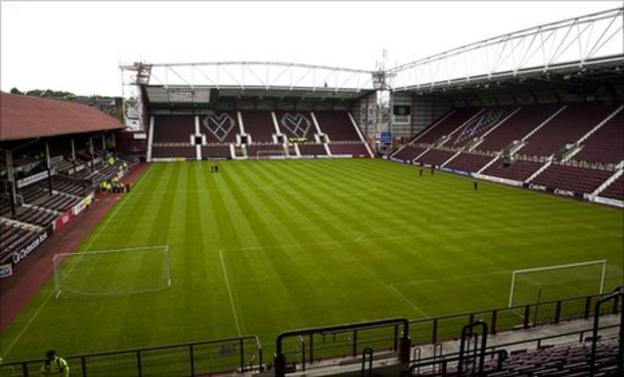 Hearts have taken another step towards a move away from Tynecastle Stadium, with a report concluding that redevelopment is "not a viable option".
The consultants' report, jointly commissioned by the club and City of Edinburgh Council, recommends that an alternative site is found.
The report warns that Hearts' home of 125 years is "in poor condition and lacks many amenities".
It also says the stadium is "non Uefa compliant".
Hearts announced the study in May, when it was revealed that locations to the west side of Edinburgh would be considered, and asked fans to submit their views.
And last week the club said they were looking into the feasibility of a community stadium in conjunction with the council.
The report identifies a land requirement of 12 to 16 acres and cites Hull City's KC Stadium and Bolton's Reebok Stadium as "exceptional examples" of council and club partnerships.
When Vladimir Romanov took over as majority shareholder at Hearts six years ago the club had already agreed to sell Tynecastle to Cala Homes for a figure in excess of £20m.
That deal was called off by the Lithuanian-based bank owner, who said his preferred option was to redevelop the stadium.
But plans were repeatedly scaled down due to planning difficulties and cost issues.
Last year, Hearts said they were "open-minded" about the possibility of a ground-share deal with Edinburgh Rugby at a new stadium.
The new report states that the stadium should be "capable of hosting other top class sports, corporate, arts and entertainment events".
However, Hearts have ruled out the option of an athletics track.
The report, detailed on the Hearts website, requests that "the council now formally consider the principle of entering into a formal partnership agreement with Hearts to explore the business case for developing a new stadium".