Former Nigeria U-20 coach John Obuh demands salary
By Oluwashina Okeleji
BBC Sport
Last updated on .From the section Football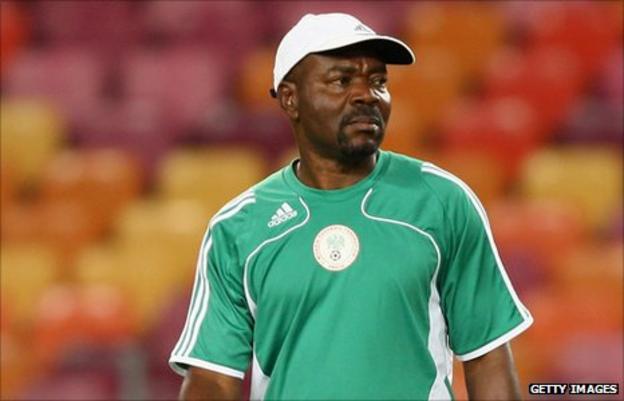 John Obuh, Nigeria's former under-20 coach, has said the Nigeria Football Federation (NFF) must settle its long-standing debt to him.
Obuh says the NFF owes him 13 months' salary arrears from late 2009 to December 2010.
Obuh led the African champions to a quarter-final finish at July's Fifa Under-20 World Cup in Colombia.
Expected to continue in his under-20 role by the NFF, Obuh said his patience is fast running out.
"It's inexplicable that they paid me from January 2011 to August 2011 but failed to pay all through my first year in the job," Obuh told BBC Sport.
"I've been verbally asked to continue as the under-20 coach but no one is saying anything about the backlog owed.
"I love my job but that is not going to take care of my family and I hope they [NFF] understand that," he said.
NFF spokesman Ademola Olajire said Obuh's latest remarks are "unfortunate".
Olajire attributed the possible delay in payment to a 'mix-up' or 'misunderstanding' in administrative paperwork.
"That's really unfortunate to hear but I suspect there is a misunderstanding somewhere for part of his payment to be missing," Olajire told BBC Sport.
"The NFF technical department as well as the secretary-general are always on top of issues relating to this.
"There is a proper channel if he wants to deal with us directly. He must let us know, through a written process and not in the media."
But a disappointed Obuh expanded further on what he believes is the NFF's frustrating merry-go-round procedure.
"They owe me the money, I've been demanding it but no one is interested in sorting it out for me," he said.
"The records are there for all to see. I didn't get my salary since I took over after the 2009 Fifa World Cup."
Obuh was in charge when debutants Switzerland beat hosts Nigeria 1-0 to win the 2009 Fifa Under-17 World Cup in Abuja.
It is not the first time Nigerian coaches have been caught in the web of unpaid salaries.
Recently the likes of Christian Chukwu, Shaibu Amodu, Eucharia Uche and Austin Eguavoen have gone to the media seeking payment for outstanding salaries.