Liverpool count the cost of slack shooting
Last updated on .From the section Football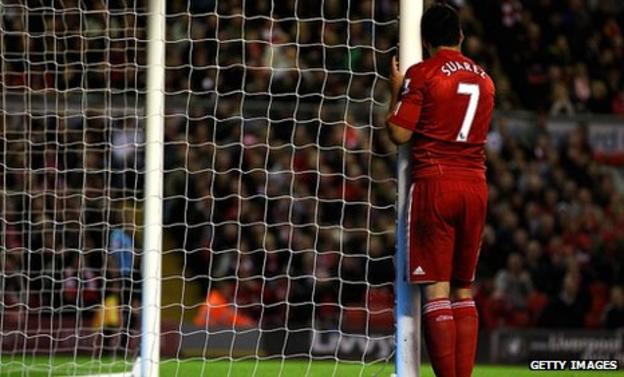 It is a little early in the season for "what-ifs" but Liverpool fans can already imagine quite a different campaign.
Lying sixth in the table, they could be Manchester City's closest challengers at the top of the table, if they had kept a tighter grip on the leads they have established at Anfield.
On Saturday the Reds peppered the Norwich goal with 25 shots, but found the net with just one before being pegged back by the Canaries.
A week before a subdued Manchester United had departed Merseyside with a point despite falling behind while Sunderland emerged from under the cosh to take a draw on the opening day of the season.
Victories in those three matches would have carried Liverpool to second.
If the Reds had taken something from their trip to Stoke, where they had 11 shots on target compared to the host's solitary, successful, strike, that position would be even more comfortable.
Instead the Merseysiders are second only to Aston Villa in the number of points surrendered from winning positions this season.
Manager Kenny Dalglish invested heavily in midfielders over the summer, but his side have struggled to find the punch up front to floor reeling opponents.
While they have taken 116 shots, equivalent to an effort every seven minutes, only one in 10 has found the back of the net.

By contrast and Manchester United and Manchester City have scored with 23.6% and 22.1% of their shots respectively.
"If we don't convert our chances we're always going to give the opposition a chance," admitted Dalglish after the draw with Norwich.
John Aldridge, a former team-mate of Dalglish, converted 63 chances in 104 Liverpool appearances between 1987 and 1989.
"It has cost us," he told BBC Sport of the Reds' current run of wastefulness.
"At least the creativity has been there to create chances, but we need to be leaner and meaner in front of goal.
"The trouble is that if you are missing you can find yourself snatching at chances."
Luis Suarez was front and centre in the shooting gallery against Norwich, firing on goal 11 times - more than any other player in a single Premier League game this season - but failing to make an impression on the scoresheet.
Since his arrival in January, the Uruguayan's smooth transition to life on Merseyside has eased the pain of Fernando Torres' departure to Chelsea.
But Suarez's dazzling skills may have blinded fans to his relative wastefulness in front of goal.
Of the players to have scored four or more goals in the Premier League this season, Suarez is the least efficient, with his shots-to-goals ratio lagging well behind the main marksmen at Liverpool's rivals for a top-four spot.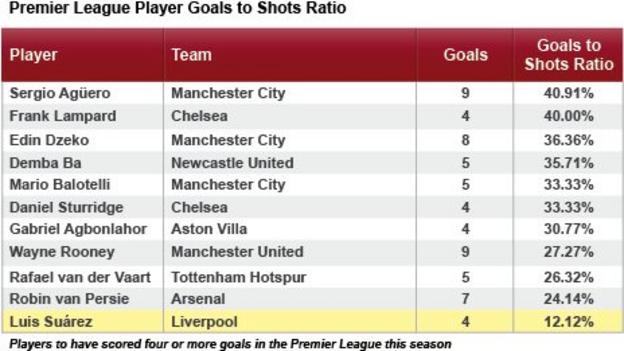 It may be that as his club's main attacking force Suarez feels he has to take on responsibility for shooting more often.
Nine of his 33 shots on goal have come from outside the area which hardly suggests a personal shoot-on-sight policy however.
"He scored two fabulous goals against Stoke in the Carling Cup on Wednesday, so hopefully that will give him confidence," added Aldridge.
"Steven Gerrard will help take the pressure off Suarez. He has only played one game so far since returning from injury and will score goals from midfield, as will Charlie Adam. You need goals from all over the pitch."
Craig Bellamy and record signing Andy Carroll are also at Dalglish's disposal.
Liverpool do not lack for firepower, but their big guns' sights need tuning if they are to keep Champions League qualification in focus.