Off The Bawl - 23 October 2011
Last updated on .From the section Football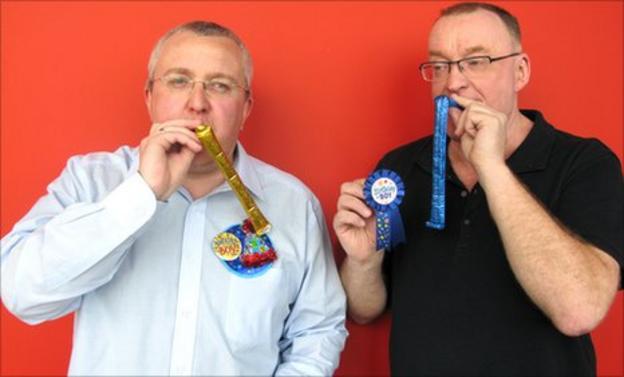 Greeeeeetings!!! Off The Ball cooked up a storm at the BBC Good Food Show last week (woeful pun courtesy of Chick Young) and we were joined at the SECC in Glasgow by four top guests.
Celebrity Masterchef presenters John Torode and Greg Wallace (the only Millwall fan to get excited by a souffle), Irish comedian Brendan O'Carroll (aka Mrs Brown) and award-winning chef Guy Cowan (he got his 25m breaststroke badge when he was 12).
We kicked off with a wee quiz: Which foodstuff would you associate with a particular football story? For example...
A microwaved poached egg - Kirk Broadfoot's domestic injury.
Eggs Benedict - alleged reports of this delicacy being banned in the Ibrox hospitality suites when Pope Benedict got the Vatican gig.
Krankl-cut chips - the punchline to an old joke after Alan Rough let in a soft goal to Austrian striker Hans Krankl.
Succulent lamb - the feast once famously spoon-fed to Jim Traynor by Sir David Murray.
Monster Munch - an integral part of Kris Boyd's daily diet when he was at Rangers.
A bag of rice - David Beckham required treatment on both feet after carefully following the instruction "stand in boiling water for two minutes"...
We also paid tribute to the best (and the very, very worst) food related jokes. And we even stuck with the culinary theme for our Team of the Week - The Chef's XI.
Here's another random selection of the most petty and ill-informed texts and emails on radio...
Anon said: "What lies at the bottom of the ocean and sings Give Me The Moonlight? Frankie Prawn."
Andy said: "A guy was found behind the counter at Pizza Hut covered in cheese, onion, pepperoni, tomatoes, chillies and flakes of tuna. It's believed he topped himself."
Alan said: "Barry Ferguson walked into a library and asked for a fish supper. 'This is a library!' said the girl at the desk. Barry apologised and whispered: 'Can I have a fish supper?'"
Jules in Glasgow said: "Why do the French never eat two eggs? Because one egg is un oeuf." (Don't worry, Stuart explained it to Tam...)
Ian from Killie said: "Tam, I was going to make a banoffi pie, but I've bin awfy busy." (That one doesn't seem as funny written down...)
Jim in Glasgow said: "A wee jar of French mustard dumped a wee jar of English mustard. She gave him a Dijon letter..."
Michael in Livingston said: "I was in a Vietnamese restaurant recently and I had the meatballs. They really were the dog's b------s."
Angela said: "A steak pie walked into a bar and the barman said: 'Sorry, mate, we don't serve food in here.'"
Steven in Battlefield said: "Did you hear about the guy who drowned in a bowl of muesili? He got pulled under by a strong currant."
But our favourite of the afternoon came from Wee Abbie, a seven-year-old listener (which means she's far too mature for Off The Ball) who said: "What did the grape say after the elephant sat on it? Nothing - it just let out a little wine."
TEAM OF THE WEEK
The Chef's XI
Manager: Asparagus McPherson
Assistant: Cordon Bleu Macari
Chief Executive: Martin Bain Marie
1/ Pate Bonner
2/ Franck Sautee
3/ Tapas Papac
4/ Tommy Ring-cutter (c)
5/ Nigel Pepper
6/ Jorge Spaghetti
7/ Chateaubrian McClair
8/ Fabrizio Ravioli
9/ Colin Langoustein
10/ Terrine McDermott
11/ Conor Sammon On A Bed Of Couscous
AND FINALLY...
The song that played us out? Well, as a special request from all the hard-up Hearts players, we finished with the Deacon Blue classic Wages Day...
To join in the fun on this Saturday's show, call 0500 929500, text 80295 or email offtheball@bbc.co.uk
Listen to the most recent Off the Ball programmes.
Download the latest Off the Ball podcast.