Ipswich Town striker Michael Chopra checks into gambling clinic
Last updated on .From the section Football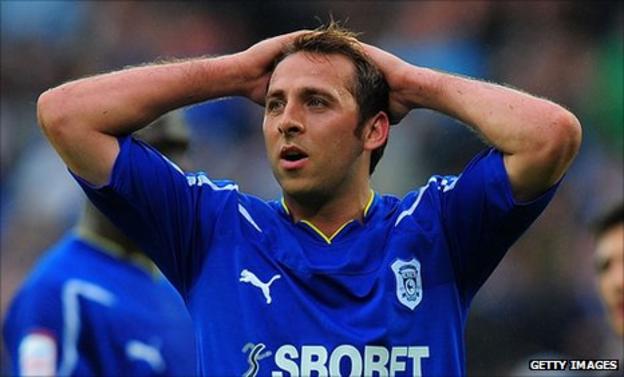 Ipswich Town striker Michael Chopra has checked into the Sporting Chance rehabilitation clinic to receive treatment for a gambling addiction.
The 27-year-old former Cardiff frontman has spent the last four weeks based at the Hampshire clinic.
He has suffered problems with gambling in the past, most notably while at Sunderland in 2008.
Ipswich boss Paul Jewell told BBC Radio Suffolk the forward would start against Millwall on Saturday.
"Michael has had an addiction to gambling for some considerable time," said Jewell.
"We thought he was getting better, but he wasn't, so off his own back he checked into the Sporting Chance Clinic after the Brighton game [1 October]."
The Sporting Chance Clinic is a facility set up by former England and Arsenal defender Tony Adams to treat behavioural problems, such as alcohol, drugs and gambling addictions in professional and amateur sports people.
"It's been difficult for us to talk about it," added Jewell. "He hasn't trained. He was turning up for matches and going straight back to the clinic afterwards.
"He's in a better place, in his head, than he's been for a long time. The transformation in his personality is quite clear to see, we all desperately want to help him.
"We would like to have kept it private, and when it's splashed all over the newspapers it can make it worse, but he wanted to face up to his addiction.
"He's trying to turn his life around. I'm sure with the support of the team, the experts and, really importantly, the supporters, we can have an even better player.
"You will definitely see Michael Chopra on Saturday, you'll definitely see him starting."
The former England Under-21 international, a £1.5m signing from Cardiff in the summer, has started 12 of his side's 13 league games this season, scoring five goals along the way.