Eq Guinea keen to impress at Africa Cup of Nations
By Matthew Kenyon
BBC Sport, Malabo
Last updated on .From the section Football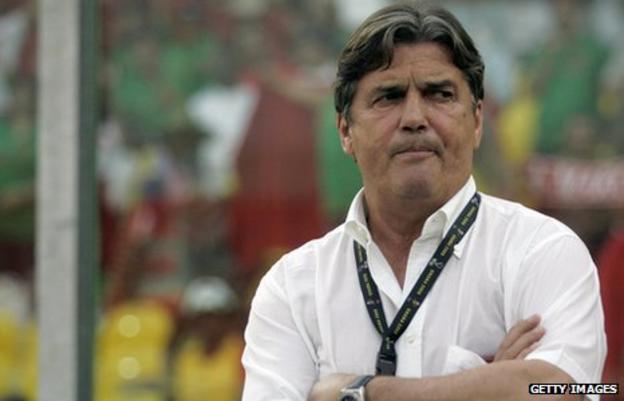 Equatorial Guinea say they are determined to make their mark on the Africa Cup of Nations that they will co-host with Gabon in January.
The Nzalang Nacional - which translates as 'The National Lightning' - have never been to a Nations Cup before.
"Our participation is not just for honour," the president of the country's football federation (Feguifut), Bonifacio Manga, told the BBC.
"We are participating so that our team, if it doesn't reach the final, is at least among the teams that goes the farthest but we're competing to win."
Equatorial Guinea are a lowly 155th in the world in the Fifa rankings and have had a disrupted build-up to the tournament, with the sudden departure and then re-appearance of coach Henri Michel.
But the men's team are keen to match the achievement of the women's national side, who won the Africa Cup of Nations on home turf in 2008.
And they are buoyed by the failure of some of the continent's big guns to qualify for the competition.
"It is a big chance for us, it is not a problem," Feguifut media officer David Monsuy said, when asked about the absence of teams like Nigeria, Cameroon and Egypt.
"We are going to try to take the opportunity to go far in the tournament, so it is a big opportunity for us because, obviously, had those big teams been competing, we would have less chance to progress."
The draw for the Nations Cup takes place in Malabo on Saturday.
The tournament kicks off in Bata, on the Equatorial Guinea mainland, on 21 January, with the final in the Gabonese capital Libreville on 12 February.