Mark Stimson wants better Kettering discipline
Last updated on .From the section Football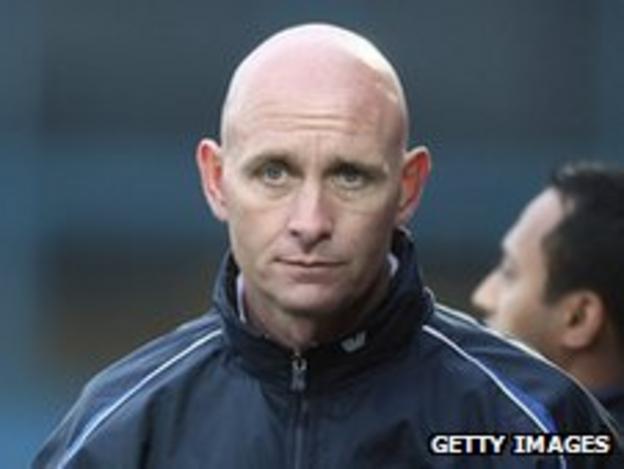 Kettering Town manager Mark Stimson has told his players they need to improve their discipline.
Stimson told BBC Radio Northampton: "It's frustrating and it's got to be fixed. We need to be a bit more clever.
"The players have got to realise that in the modern day, you can't leave the floor with a foot in the air. It hurts the club in the long term."
He added: "It's hard to explain because it's not happened to me before, [to have] so many sendings off.
"Hopefully we can keep more of our players on the pitch [because with] suspensions and injuries, we're down to our bare bones."
Kettering next entertain Southend Manor in the fourth qualifying round of the FA Cup on Saturday.
Stimson says that some of his 11 players still on the transfer list could feature and catch the eye of other teams.
"I've said to one of the players the other day about the FA Cup - if you get a hat-trick, you could be on the TV and that could kick-start something that you want to achieve," he said.
"For all the players, it's a great competition to get a bit of publicity.
"Nathan Koo-Boothe and Jerel Ifil have played a lot of games for us but it's up to the players to step in and take the opportunity.
"The FA Cup is a great competition, one that gets you excited, and you're only a couple of games away from the big teams coming in. But we've got to make sure we're professional.
"Financially, it's massive. And as a player, you've got to make the most of it. If it was down to fitness, we should win it by a mile but most of all, it comes down to how big your heart is and who wants it the most."