Arsenal owner Stan Kroenke expects to stay "for the long term"
Last updated on .From the section Football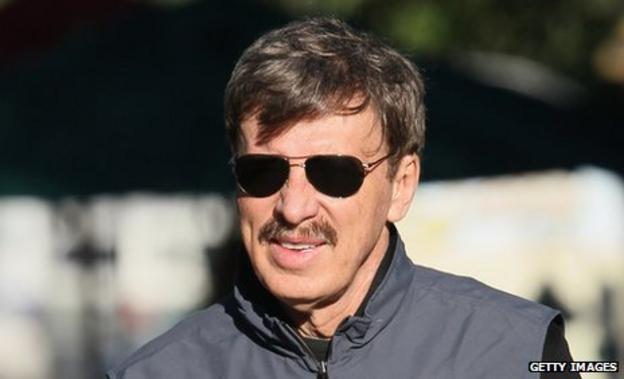 Arsenal majority shareholder Stan Kroenke said he will be "here for the long term", speaking at the club's AGM.
The American businessman's full takeover took place in May after acquiring the stakes of Danny Fiszman and Lady Nina Bracewell-Smith.
Kroenke said: "We are glad to be here, are happy with the direction of the club and are here for the long term - we love London.
"You had better get used to seeing us because we will be around."
The Denver-based sports magnate, who first joined the Arsenal board in 2008, added: "What a wonderful club. We are involved extensively in sports in the United States and had lots of opportunities to involve ourselves in lots of clubs around Europe and in the English Premier League.
"The club has tremendous management at the top, a wonderful manager on the pitch who makes great decisions in regard to personnel, and a tremendous following with the supporters."
Chief executive Ivan Gazidis delivered the opening address to the AGM at the Emirates Stadium, and maintained "being a force" both in the Barclays Premier League and Europe would always continue to be the Gunners' main objectives.
Gazidis also updated the AGM on the club's "sound financial platform", with all bank loans paid off and the only outstanding debt now related to the stadium move, which is set at affordable long-term rates.
The Arsenal chief executive revealed there would soon be more commercial income from new sponsorship agreements.
Manager Arsene Wenger celebrated 15 years in charge of the club earlier this season, but he has endured one of the most testing spells of his tenure.
He said: "To stay at the top, top level we have to stay united.
"That does not mean not I am not to be criticised, or the board - we accept that, but we have to show to the outside we are united. If you are not, then you have no chance."
He added: "I believe the values we defend are highly defendable.
"We want to do things with class and be very brave. Courage is a quality I admire, because it is highly needed in the modern world.
"I can see a lot of fear and discontent among you - and I can understand that because we live in a world where we fight with people who have extremely high resources.
"We can compete by trying to be intelligent and to be united, because football is very difficult to be consistent and we have been more consistent than anybody in the world in the last 15 years."