Investigative journalist Andrew Jennings tells Brazil that Fifa "stinks"
Last updated on .From the section Football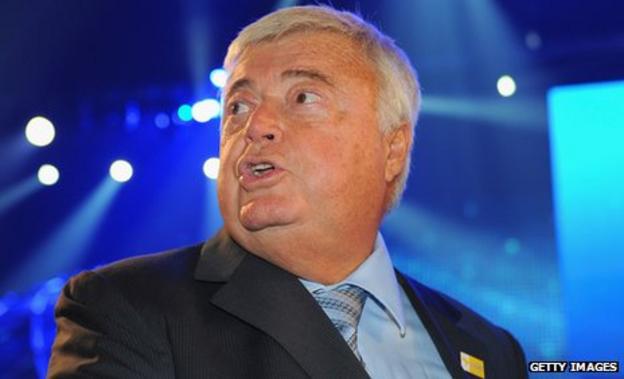 Investigative journalist Andrew Jennings has told Brazil's Senate that corrupt Fifa officials should be frozen out of 2014 World Cup preparations.
Jennings, speaking in a personal capacity as a freelance reporter, gave his advice to Brazil, hosts of the 2014 World Cup, following his decade of investigations into Fifa.
A Senate committee had invited him to present his evidence of fraud at Fifa.
He told them: "It's time the government said to Fifa, you stink, you smell, we don't want our president to be photograped with these crooks."
Jennings said Brazil should take responsibility for the preparations away from senior Fifa officials including Ricardo Teixeira, head of Brazil's football confederation and the nation's front man for World Cup preparations.
The reporter added: "It is in the best interests of your country to get these people out and appoint honest bureaucrats and clean people to run the World Cup."
Jennings worked on a BBC Panorama programme that accused Teixeira and former Fifa president Joao Havelange of taking millions of dollars in bribes from ISL to retain the company as Fifa's sole official marketer.
Teixeira, who is facing a Brazilian federal police investigation related to the case, has denied the allegations. Havelange did not respond to the BBC's request for a comment.