Andy Morrell hits out at Wrexham manager uncertainty
Last updated on .From the section Football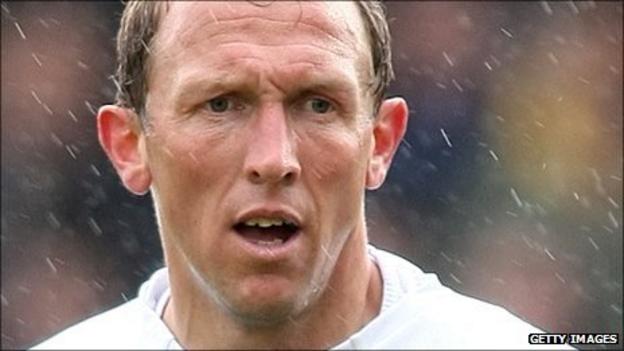 Andy Morrell says Wrexham must end the uncertainty over the vacant manager's position at the club.
But continuing delays over the club's proposed takeover have stalled the process to appoint a full-time manager.
"It's now decision time. It can't go on for another couple of weeks," said the 37-year-old striker. "I think it needs to be sorted one way or another."
Morrell was initially unsure whether he was ready to move into management, but the former Coventry striker revealed on Saturday he has now officially applied for the job.
He has already won the backing of the Wrexham squad, and former Racecourse legends Mickey Thomas and Dixie McNeil believe he deserves to be appointed.
Those endorsements have been earned following a string of impressive results, with Wrexham winning 19 points from a possible 24 in the Blue Square Bet Premier under Morrell.
But despite the healthy situation on the pitch, Wrexham's future off it remains unclear.
Current owners Geoff Moss and Ian Roberts, who have been looking to sell the club since January, agreed to sell to the Wrexham Supporters Trust in September, but the deal has still not received the backing of the Football Association or the Football Conference.
The Trust announced on Wednesday that the authorities have asked for "addition information" from both parties, and that the takeover is unlikely to be sanctioned "before the end of October".
As a result, the process to find a new manager will be further delayed, but Morrell believes the Trust and the current owners should come to an agreement to make a short-term appointment to ensure a semblance of stability.
"Players don't like uncertainty, they like to know where they stand," said Morrell, whose stint in charge is set to end after Saturday's FA Cup tie at home to York.
"It was uncertain four and a half weeks ago and it's a similar situation now.
"I understand the uncertainty before because of the suddenness of [Dean Saunders'] departure but now it's a month down the line I think the Trust were hoping to be in by now and an appointment would have been made by now.
"That would have been fine. But it's not happened that way so a decision needs to be made either way and very soon.
"If Geoff and the Trust can speak to each other then maybe a decision can be made that both parties would be happy with."
The Trust refused to comment on the situation when contacted by BBC Wales, while attempts to contact Moss were unsuccessful.