Aberdeen hope to dent Rangers away league record
Last updated on .From the section Football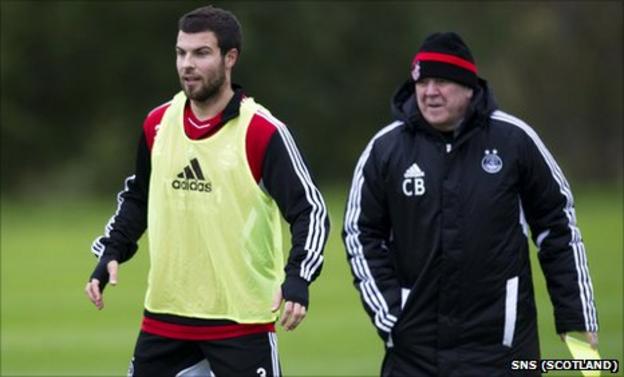 Aberdeen manager Craig Brown and captain Richard Foster hope the Dons can end Rangers' impressive away record this weekend.
The Scottish Premier League leaders have not lost a goal on the road in the league this season and have not dropped an away league point since February.
"If the performance is there, there's no reason why we can't get a result," said Foster.
And Brown added: "We've got to positive in the fixture. The lads know that."
Foster spent last season on loan at Ibrox last season and is looking forward to taking on his old team-mates.
"Rangers at Pittodrie is always special," said the defender. "The crowd are always absolutley buzzing and I'm sure it'll be a good game.
"There's no point in us going into the game if we don't think we can [win]. Six games this season away from home and they haven't lost a goal, it's quite impressive.
"Aberdeen v Rangers at Pittodrie is different from Rangers going anywhere else in the SPL. We'll make it difficult for them and hopefully we can breach their defence.
"Obviously, I want to do well for Aberdeen. I'm the captain and I want to win games. Rangers coming to Pittodrie is always special, a little bit more so for myself and I want to go out there and get the three points.
"At Pittodrie, Celtic are the only team to have beaten us over the 90 minutes and it's important that we go out and show the same desire that we did down at Parkhead and I'm sure we can get a result.
"We'll be the home team, we'll have, I would imagine, a big crowd supporting us right from the first whistle. For them, and for ourselves, we want to put in a great performance."
Brown was heartened by Aberdeen's performance at Celtic Park last Sunday, despite the 2-1 defeat.
"With a little bit of good fortune, we might have got a draw in Glasgow at the weekend," said the manager.
"Although, in fairness, Celtic were the better team, I'm not denying that. With the way the game went we could've got a point and that would've been a very good boost after winning two matches but we've lost it so we've got to recover here.
"You're better winning one and losing one than drawing two in terms of points. The incentive now is to try to beat Rangers and get the three points.
"That's our objective, we're not going out here looking to try and make it a damage limitation job or anything like that because of Rangers' excellent away record."
Meanwhile, Brown is hopeful recent signing Kari Arnason can be persuaded to extend his stay at Pittodrie.
"He's played exceptionally well and he's already a fans' favourite here and you want players who are popular as long as they do the job and he does the job tremendously well," added Brown.
"I would hope that between now and the next transfer window Duncan Fraser, our chief executive, will sit down with him and and try to extend his contract.
"I can't, for the life of me, see why he's not in the Icelandic national team."