FA receive further information from Wrexham Supporters Trust
Last updated on .From the section Football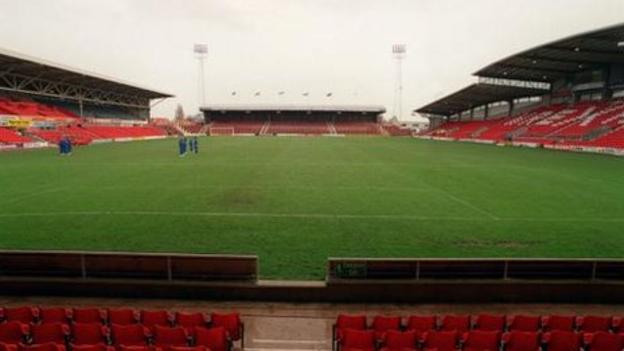 The Football Association have confirmed Wrexham Supporters Trust have provided them with further information regarding their possible takeover of the club.
But the deal has still not received the backing of the Football Association or the Football Conference.
The Trust had been requested to provide extra information to the football authorities about their takeover.
And the Football Association have confirmed to BBC Sport Wales that the Trust have given them more information.
"The WST has provided the FA with information on which we have raised queries and they continue to co-operate in relation to meeting the requirements to transfer membership," said an FA spokesman.
Continuing delays over the club's proposed takeover have stalled the process to appoint a full-time manager, with Andy Morrell still in caretaker charge.
Morrell believes the Trust and the current owners should come to an agreement to make a short-term appointment to ensure a semblance of stability.
"It's now decision time. It can't go on for another couple of weeks. I think it needs to be sorted one way or another," said Morrell.
"Players don't like uncertainty, they like to know where they stand. It was uncertain four and a half weeks ago and it's a similar situation now."
And former Wrexham player Mickey Thomas says the takeover of his old club needs to be completed soon or results on the pitch could suffer.
The Dragons are currently the top of the Blue Square Bet Premier but ex-Wales winger Thomas fears the uncertainty could affect their promotion bid.
"While it's like this everyone's going to be concerned and nervous," said Thomas.
"It should have been completed a long, long time ago. It still hasn't happened so that is very worrying for everyone concerned.
"I speak to former players at the football club and to fans over the last couple of days [and] they're not happy with the way the situation is.
"We need completion. If it's not happened in the next few weeks then it's going to become a very difficult job to control."