Kenyan football elections to take place on Saturday
Last updated on .From the section Football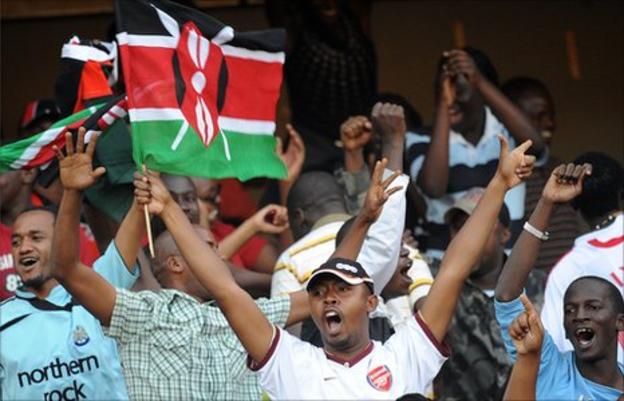 The much-awaited Kenya football elections, aimed at ending the political in-fighting that has bedevilled the country's sport, will take place on Saturday.
A successful election will bring an end to seven years of wrangles within the administration of the game.
A new body to be known as Football Kenya will take charge to end the reign of two rival bodies running the sport.
Fifa and the Kenyan government will co-fund the elections.
A private company, Football Kenya Limited (FKL), has been running the game in the country since earning recognition from Fifa in 2004.
A power wrangle ensued, with the government-recognized Kenya Football Federation (KFF) insisting it was also in charge.
Confusion reigned in organisation of football in Kenya for most of the period, with the two bodies at one time running parallel leagues concurrently.
Now FKL boss Mohammed Hatmy will contest KFF chairman Sam Nyamweya to the right to lead Football Kenya.
Among other contenders for the top seat are Mohammed Hussein, Twaha Mbarak and the chairman of Gor Mahia Football Club, Ambrose Rachier.
Over 1000 clubs represented by three officials each will cast votes in Saturday's elections at the Kasarani Stadium.
Unlike in the past in which about 200 officials have been voting at one polling centre, there will be 67 polling stations spread all over the country's eight provinces.
This is aimed at bringing transparency into the process.
The elections had been postponed three times due to uncertainties over the number of clubs eligible to vote.
The squabling has adversely affected the growth of the sport in Kenya, now ranking at 135th globally by Fifa.