Kenny Dalglish wants end to Luis Suarez and Patrice Evra dispute
Last updated on .From the section Football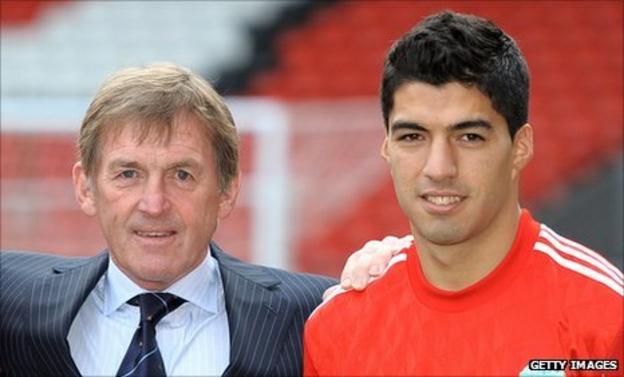 Liverpool manager Kenny Dalglish wants a quick conclusion to the dispute between Luis Suarez and Patrice Evra.
The Football Association (FA) are investigating a complaint that Manchester United's Evra was racially abused by Liverpool's Suarez.
Dalglish, 60, said: "We would rather have it done and dusted, out in the open.
"Whoever is the guilty party - the person who said it or the accuser - [should] get their due punishment."
It is alleged that Evra, 30, was racially abused by forward Suarez, 24, during Liverpool's 1-1 draw with Manchester United at Anfield earlier this month.
Dalglish added: "For me, I don't see racism apparent in any way, shape or form as far as this football club is concerned.
"I do not think racism is prevalent in the game here and it certainly isn't at this football club.
"We have got a case going on ourselves which seems to be dragging its feet.
"We look forward to the case coming to a conclusion."
Despite Dalglish urging a quick conclusion, the FA will not be rushed into a decision and have no plans to make an announcement.
The Liverpool manager also highlighted Suarez's off-field qualities.
He said: "Luis has been fantastic and the great thing about him is that he is very unassuming as well.
"Everybody can see what he can do on the pitch - but he has got no edge to him. He doesn't think he is better than anyone else.
"He is a great ambassador for the football club. For us, as well as his football, the other things he brings to the club are very important as well.
"He is just a fantastic person as well as a fantastic footballer."