Fifa criticised after TV rights handed to Sepp Blatter's nephew

By David Bond
BBC sports editor
Last updated on .From the section Football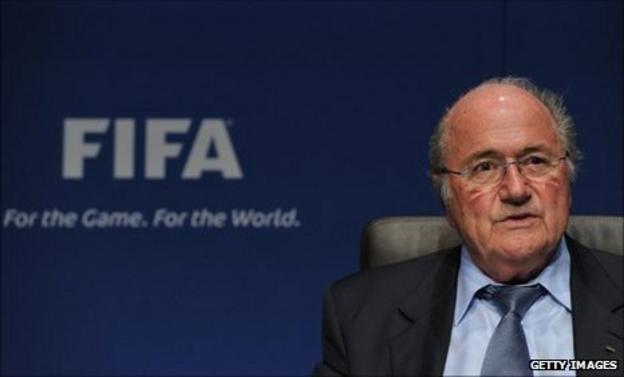 Anti-corruption campaigners Transparency International have called on Fifa to be more open about potential conflicts of interest following the governing body's decision to award a TV deal to a company led by a relative of president Sepp Blatter.
Fifa announced yesterday it had appointed Infront Sports and Media to handle the sale of World Cup TV rights in a number of Asian countries for the 2018 and 2022 tournaments.
But they failed to disclose the president of Infront is Philippe Blatter, the Fifa president's nephew.
The announcement came a week after Fifa set out a two-year plan, working closely with Transparency International to reform the organisation following a series of damaging corruption scandals.
Sylvia Schenk, the author of Transparency International's damning report on Fifa, told the BBC that even if Sepp Blatter played no part in the decision to award the contract, it raised questions again about the governing body's lack of accountability.
She said: "When you have a situation where two relatives are in leading positions in two companies which agree a significant contract, it is of utmost importance for Fifa to be as transparent as possible regarding the decision-making process and Sepp Blatter's involvement in that decision.
"Given the situation Fifa is in right now, it would be better for Fifa to be more pro-active with their information where there could be a perception of a conflict of interest."
Following an enquiry from the BBC, Fifa's media office released a statement making it clear that Sepp Blatter played no part in the decision to award Infront the TV contract.
The statement read: "Following a tender, the decision to go with Infront was made by the finance committee and ratified by the executive committee on the basis that Infront presented the best offer.
"The Fifa president is not a member of the finance committee and was not present when the decision was made. The Fifa president did not take part in any meetings or discussions and was not involved in the tender process.
"Fifa's relationship with Infront dates back to long before Philippe Blatter joined the company in 2006. In fact, Fifa has worked with Infront in highly specialised areas of the Fifa World Cup project in part or in whole since 1997 to great success. It is this proven expertise combined with a very convincing offer that won them the award of sales representation from Fifa for selected territories in Asia for 2015-2022."
Fifa also disclosed that Infront have been awarded host broadcaster contracts.