Swans need to invest, says Sam Ricketts
Last updated on .From the section Football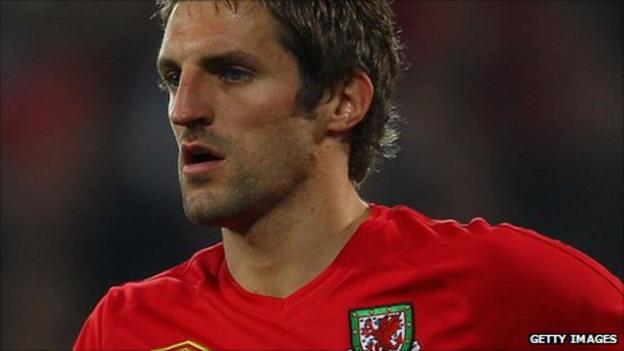 Sam Ricketts says his former club Swansea City need to invest in their infrastructure if they are to establish themselves in the Premier League.
The Swans are in their first season in the top flight and on Saturday face Ricketts' present club Bolton.
And the Wales player says Swansea should invest for the future, including new training facilities.
"For Swansea it's brilliant to get there, but now they need to spend their money wisely," he told The Back Page.
Financial prudence has been crucial in Swansea's rise to the Premier League after the club endured its fair share of financial problems.
Chairman Huw Jenkins has overseen Swansea's development which has included moving to the Liberty Stadium.
Having spent two years with the Swans, Ricketts is well aware of how far the club has come during recent times.
But the 30-year-old former Oxford and Telford United player says Swansea now have an opportunity to move forward.
"After their bad times they don't run into debt at all, they like to stay solvent. I think that's one of their big plusses," Ricketts said.
"But it's a chance for Swansea to establish themselves.
"[The] biggest thing, and I know it's been spoken about, is training grounds. Obviously the manager is aware how important it is.
"But I don't think the chairman is quite realising how important it is to get the set-up behind scenes partly because he's not been probably [involved] at the Premier League level.
"I think if he went around to other clubs and saw what other clubs have got I think he would be shocked.
"But you need that infrastructure. It helps attract players and it helps allow the players to perform their best at the weekend."
Ricketts has experienced Premier League football with Bolton and previous club Hull City, whom he joined from Swansea.
He played alongside many of Swansea's current squad including Leon Britton, Alan Tate and Garry Monk.
And Ricketts says his former-colleagues are capable of maintaining Swansea's Premier League status beyond this season.
"The easiest year to stay up is the first year - the second year's the hardest," said Ricketts.
"They've started really well and obviously hope they do stay up. They've carried on playing exactly the same football as they did last year.
"The pleasing thing is they have been able to pass the ball and retain possession and control games just as well in the Premiership as they have done in the Championship.
"As a unit all the players know each other extremely well which is hugely important.
"You're going to have dark times during the season, but you look at your mate and you've played with him for the last two or three years [and] you know exactly what he can give and he knows what you can give."
Ricketts will not be lining-up against his former club as he continues his recovery from the Achilles injury which he suffered in February.
However Ricketts is hoping to resume light training next week after a period which he describes as "frustrating."
Listen to the Sam Ricketts interview on The Back Page, BBC Radio Wales from 0830 BST on Saturday, 29 October and later on demand.