Lennon 'enjoys' pressure of Celtic manager's job
Last updated on .From the section Football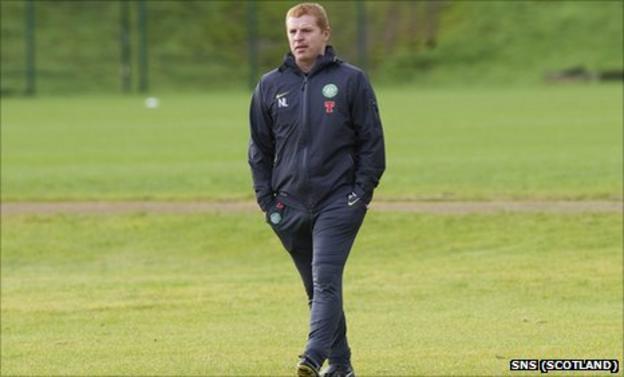 Celtic manager Neil Lennon admits he questioned his own methods during the club's recent dip in form.
But he also says he's relished the pressure he's been under recently, saying: "I've really enjoyed it, believe it or not.
"It was a different period in my managerial career that I had to get through and I enjoyed that challenge.
"All managers get tested and it's a question of your own character, how you handle it and how you get through it."
Lennon's side claimed a hard-fought 2-1 league win over Aberdeen last weekend with then came back from a goal down to on Wednesday.
This followed a run of four matches without a win.
"I don't really take notice of the criticism," said Lennon ahead of Saturday's league meeting with Hibs. "I am aware of it. I don't take it personally but you wouldn't be a human being if it didn't irk you a little bit.
"Results being the way they were, you are open to criticism but I knew that anyway.
"I thought we started well against Kilmarnock and then we conceded three goals in 10 or 15 minutes.
"Now that has not happened to me before and that was a real test for me and, on the back of less than great results previously, I was asking a lot of questions of myself.
"I got the response I was looking for at Kilmarnock and since then there has been a gradual improvement, not only in performances but in the spirit of the squad.
"I'm not saying we are through the woods yet, there is still a lot of work to be done.
"But I have enjoyed seeing the team try to turn things around and I have enjoyed that difficult side of it."
Lennon, who spent six-and-a-half years as a player at Celtic before rejoining the club as a coach in 2008, insists he is not surprised at the level of scrutiny he has been put under.
"It is the nature of the beast," he added. "You are analysed in every facet of the game like selections, tactics, in every game.
"There is not a minute of the day when you don't analyse it. You go to bed at night thinking about it, get up in the morning thinking about it.
"Do you change the way you manage? Do you change your approach? And then you look back at last season and think that you didn't do a lot wrong.
"There were areas you could improve on but if you stick with what you believe in, you know that you will get it right but with a job like this you have to get it right quicker than other people.
"I'm not saying I am through it, there is a gap to close on the leaders but I believe we can do that.
"And the fact that we are still going strong in all competitions, with the players we have had missing, pleases me immensely."