Tottenham Hotspur's Michael Dawson may need surgery
Last updated on .From the section Football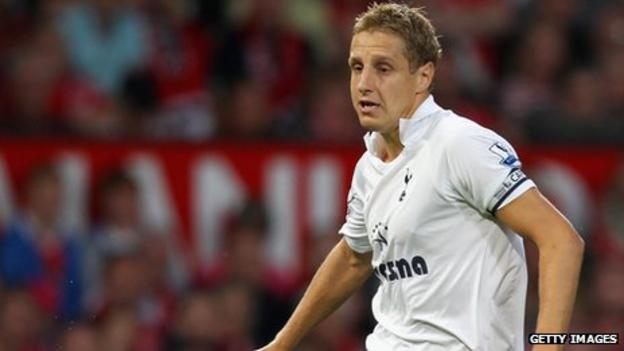 Tottenham's Michael Dawson could be out for several months because of his ongoing Achilles tendon problem.
The England defender, 27, will see a specialist next week to decide whether he needs surgery and rehabilitation.
Dawson complained in training, having felt pain after Spurs' 5-1 defeat by Manchester City on 28 August, which was his last appearance for the first team.
Boss Harry Redknapp said a scan would take place on Wednesday, adding: "It could be a long-term problem for him."
Initially it was thought Dawson would be out for two months, but there was the prospect of an early return two weeks ago when he started running with the rest of the Spurs squad.
The former Nottingham Forest man trained in the gym but the club's medical staff say he must now see a specialist to determine whether there has been a serious setback to his rehabilitation.
Redknapp said: "Michael started to run but didn't feel good. He felt the same pain, had another scan and now has to go to the specialist on Wednesday again to see why.
"Until he sees the specialist we don't know if they want to operate on him, which we don't want.
"An operation would be a long job, we're hoping there is nothing there and it's part of what he'll feel from scar tissue or something. The last resort is an operation."