Wayne Rooney receives support from Montenegro defender
Last updated on .From the section Football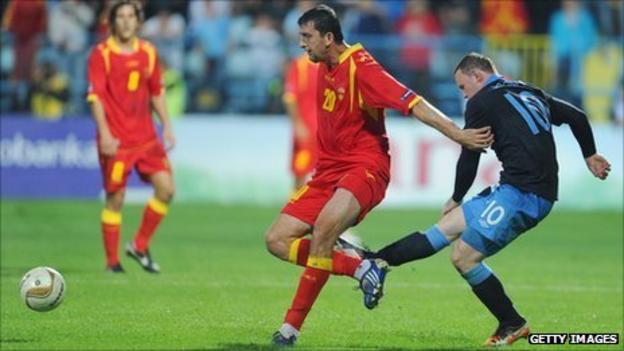 Wayne Rooney will be supported by the Montenegro defender he kicked if the Football Association decides to appeal against his three-match Euro 2012 ban.
If it opts to contest the ban, it will have the support of Miodrag Dzudovic, who has written a letter to Uefa.
According to the Daily Mail, Dzudovic claims Rooney's act was "an act of desperation rather than anger".
Rooney was sent off for a kick at Dzudovic during England's 2-2 Euro 2012 qualifying draw with Montenegro in October.
He was handed the ban that rules him out of England's opening three games of next summer's tournament in Poland and Ukraine.
But Dzudovic's letter, written by the Soviet Sport newspaper and signed by the player, backs Rooney.
"Miodrag would like to underline that he didn't notice any signs of aggression in Rooney's actions," said the letter.
"In his opinion the England national team player was driven by emotions and it was an act of desperation rather than anger.
"The most important detail we ask to take notice of is Wayne Rooney's apology.
"He realised his fault and felt guilty. Uefa pays so much attention to 'Fair Play' principles but Wayne's behaviour is the brightest example of fairness.
"It is rare when a player leaves the field blaming no one but himself after being sent off. In our opinion, Wayne Rooney shouldn't be banned even for a single game. We hope to be heard in Uefa."