Nigeria face Rwanda in 2013 Cup of Nations qualifiers
By Matthew Kenyon
BBC Sport, Malabo
Last updated on .From the section Football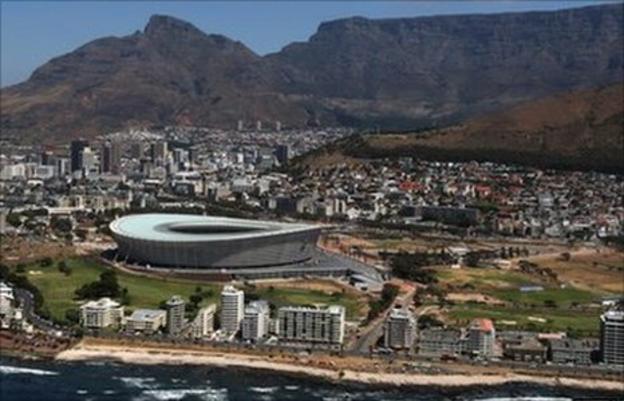 The Confederation of African Football (Caf) has announced the preliminary match-ups for the 2013 Africa Cup of Nations.
With so many big names failing to make it to the 2012 edition, there are some important ties early on in the campaign.
Seven-time champions Egypt will face Central African Republic while Cameroon take on Guinea-Bissau.
Nigeria will take on Rwanda, with both teams currently looking for a coach.
Just hours before the draw for the 2012 Africa Cup of Nations is held on Saturday, Caf announced the preliminary match-ups for the 2013 tournament.
The Nations Cup is being switched from even to odd years, meaning there is only one year between the next two events.
This means there will be little time for countries who qualify for the 2012 competition to contest a qualifying campaign that normally lasts one year.
The preliminary phase of the qualifiers will start with the countries who fail to qualify for the tournament in Gabon and Equatorial Guinea in January 2012.
Fifteen countries that make it through the preliminary qualifiers will be drawn against fifteen teams from the 2012 tournament.
South Africa qualify automatically as hosts, after taking over from Libya, who will now organise the 2017 competition.
All 16 teams who will compete in Equatorial Guinea and Gabon 2012 get a bye to the final round of qualifiers.
To start with, Seychelles will play Swaziland and Sao Tome will take on Lesotho in double-headed ties for the right to go into the preliminary draw.
Then there are 14 head-to-head ties to determine who goes forward to the final round, where the 16 teams who made it to the 2012 event will join the race for 2013.
The opening rounds of the campaign will take place in early 2012 and the final round of qualifying will happen in September and October next year.
Preliminary round one:
Seychelles v Swaziland
Sao Tome v Lesotho
Preliminary round two:
Ethiopia v Benin
Rwanda v Nigeria
Congo Brazzaville v Uganda
Burundi v Zimbabwe
Algeria v The Gambia
Kenya v Togo
Sao Tome/Lesotho v Sierra Leone
Guinea Bissau v Cameroon
Chad v Malawi
Seychelles/Swaziland v DR Congo
Tanzania v Mozambique
Central African Republic v Egypt
Madagascar v Cape Verde
Liberia v Namibia