Live - Africa Cup of Nations draw
By Matthew Kenyon
BBC Sport, Malabo
Last updated on .From the section Football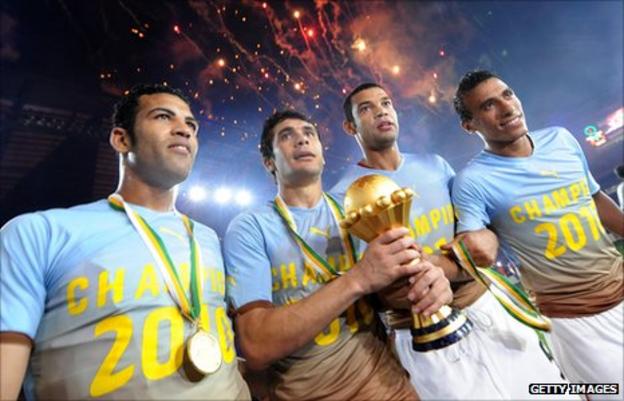 Thank you for joining us for our coverage of the 2012 Africa Cup of Nations draw here in Malabo and good night.
1955: Let's have the group's again below:
Group A: Equatorial Guinea, Libya, Senegal, Zambia (Bata)
Group B: Ivory Coast, Sudan, Burkina Faso and Angola (Malabo)
Group C: Gabon, Niger, Morocco and Tunisia (Libreville)
Group D: Ghana, Botswana, Mali and Guinea (Franceville)
1948: So a wrap up before we get reaction. Hosts Equatorial Guinea take on Libya, Senegal and Zambia in Group A in Bata. Ivory Coast, Sudan, Burkina Faso and Angola are in Group B in Malabo. Co-hosts Gabon meet Niger, Morocco and Tunisia in Group C in Libreville and Ghana will be in Group D in Franceville taking on Botswana, Mali and Guinea.
1947: Right the final teams out of the hat are: Group A - Zambia are with Equatorial Guinea, Libya and Senegal in Bata. Group B - it's Angola here in Malabo. Tunisia will be in Group C and that's Morocco's group! Which leaves Guinea in Franceville.
1940: In Group C Morocco are the team from the third pot which goes to Libreville - they join a group including Gabon and Niger - and then Mali meet up with Ghana and Botswana in Group D in Franceville.
1936: Right - who's the third team in Group A? Senegal! They've got to have a great chance to go through. For Group B it's Burkina Faso who join Sudan and Ivory Coast in Malabo.
1931 And Botswana will go to Ghana's group in Franceville.
1929 Sudan are in Group B alongside Ivory Coast and now it's President Ali Bongo's chance to pick Niger for Gabon in Group C.
1929 Libya will be joining Equatorial Guinea in Group A in Bata.
1923 Ivory Coast are playing in Malabo in Group B so Ghana are Franceville in Group D!
1920 Caf Secretary General Hicham Al Amrani is on stage and we're down to the business of the draw. It's the first time he's done this - having taken over from long-serving Sec-Gen Mustafa Famy.
1915 Gagui is on stage!! We're back with the entertainment and the show. All the flags of the competing nations paraded by dancers and the mascot is launching himself on the draw.
1914 Roll call of the teams in the hat and their achievements. We're getting closer to the meat of the evening...
1908 OK Issa Hayatou has finished and we're into the history of the Nations Cup. Fabulous archive footage! Going way way back.
1906 Issa Hayatou praising the newbie qualifiers and the organisers of the 2012 Nations Cup.
1902 Issa Hayatou, President of Caf, takes the stage.
1900 If you're coming to this page for news of the draw, well - we're still waiting. Speeches have been the order of the night so far, as is traditional at these kind of events... lots of thanks to the people who have made it all possible. More VIVAS!
1855 Gagui (Gabon-Equatorial Guinea - hence the name) gets his first mention of the night. But we haven't seen him yet.
1852: Congratulations to the first timers Niger and Botswana from the head of Cocan in Equatorial Guinea, who are also taking their bow at the Nations Cup.
1847: VIVA CAF, VIVA Africa, VIVA Gabon, VIVA Equatorial Guinea! A rousing end to the first speech of the night. No names out of the hat yet...
1838: We're getting a rundown of the 16 teams which have made it to the draw. Some big names not there - but it's time to think about the tournament we ARE going to have, not the one we might have had.
1835: The two hosts are on the stage... the welcomes and the speeches are underway.
1832: And impressive sounds and lights they are too. Dancing and drums to a backdrop of photos of the best bits of both countries... You get the feeling the business of the draw is some way away.
1828: OK now comes the impressive lights and sounds bit. The maps of the two host countries projected onto a curtain of falling water, followed by the sights and sounds of Equatorial Guinea and Gabon!
1819: For a brief moment the music paused and it looked as though the draw was going to kick-off. But... we're waiting. Just to remind you, four teams are in each pot and one team from each pot goes into each group. Anyone fancy Ghana, Zambia, Sengal and Sudan?
1815: We're all standing for the top guests... Which must mean we can get underway shortly!
1814: The big names are here - coaches from around the continent as well. I've already chatted to Sami Trabelsi of Tunisia and Michel Dussuyer of Guinea. Marcel Desailly and Basil Boli are here for television in France as well.
1812: Are we getting closer to the really important stuff? Some rather more important looking people taking up their seats close to the front. Your correspondent is rather further back.
1800: The minutes have ticked past and we haven't started yet. So we may not quite be on time!
1755: Angola, Zambia, Tunisia and Guinea are in pot two, pot three has Nations Cup contenders in Morocco and Senegal plus Burkina Faso and Mali and the last pot includes debutants Niger and Botswana plus Libya and Sudan.
1750:16 teams in the hat - four pots of four, and each group at the Nations Cup will get one team from each pot. Ghana and Ivory Coast are the top seeds - joined by hosts Gabon and Equatorial Guinea in the top pot.
1745: Dignitaries, coaches officials and journalists are gathering in the hall. And we can expect a visit from Gagui, the official mascot of the CAN 2012 - a gorilla who can dance pretty well too!
1735: Of course the two top guests are the two presidents of the host countries - President Ali Bongo of Gabon and President Teodoro Obiang Nguema of Equatoria Guinea. Plus Caf President Issa Hayatou of course.
1730: The big names are here - coaches from around the continent as well. I've already chatted to Sami Trabelsi of Tunisia and Michel Dussuyer of Guinea. Marcel Desailly and Basil Boli are here forty as well.
1700: Just over half an hour to go until the draw for the 2012 Cup of Nations herein Malabo. The great and the good of African football are all here. You'll soon know all you need to know about who will be playing who!
All times are in GMT