Andy Morrell appointed Wrexham manager
Last updated on .From the section Football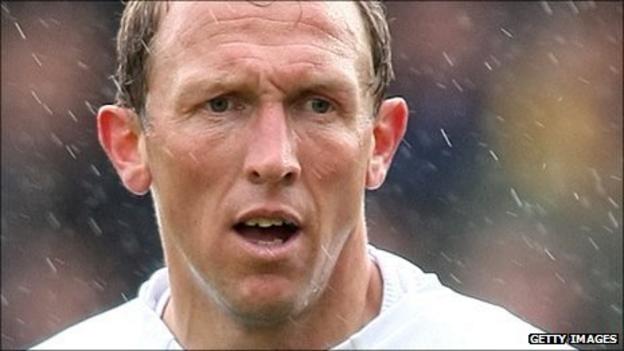 Caretaker boss Andy Morrell has been confirmed as permanent manager of Wrexham until the end of the season.
Morrell has won seven of his nine games in the Racecourse top job, keeping the Welsh club top of the table in their bid for a Football League return.
And Wrexham qualified for the FA Cup first round after beating York 2-1.
Morrell was appointed following the Dragons' FA Cup qualifying victory on Saturday as a club statement said: "The results achieved by Andy, his staff and his players over the last nine games has been exceptional."
And Morrell said: "We still have a points to discuss, the nitty gritty.
But added: "Really pleased that I have been offered the position."
The former Blackpool and Coventry forward had called on the non-league club to end the uncertainty over the manager's position earlier in the week.
But continuing delays over the club's proposed takeover by the Wrexham Supporters Trust delayed the process to appoint a full-time manager.
After their York triumph, Morrell admitted the current owners had wanted him to have the job on a full-time basis from "two to four games in."
The Trust had wanted to appoint their own man after taking control of the club and now the prospective owners have given their "unequivocal backing" to Morrell's appointment.
"At least we know what they are thinking now and everyone can pull in the same direction," said Morrell.
Wrexham also said Morrell will look "to confirm his backroom staff over the course of the coming days."
But he did say that his assistant Billy Barr, the former Preston North End and Sheffield Wednesday first team coach, has been an "absolute sensation" since joining Wrexham.
Before his full-time appointment, Morrell revealed that Barr was applying for other jobs because of the "uncertainty" over his position.
"I want him here," Morrell said.
"If I'm going to do it, I need him here with me. He his fundamental to me being here.
"He has been a huge part in our success over the past month and a half."
Morrell was initially appointed interim player/manager until the end of October and winning 19 league points from a possible 24 has persuaded Wrexham to give Morrell his first managerial job.
But despite the healthy situation on the pitch, Wrexham's future off it remains unclear.
Current owners Geoff Moss and Ian Roberts, who have been looking to sell the club since January, agreed to sell to the Wrexham Supporters Trust in September but the deal has still not received the backing of the Football Association or the Football Conference.
The FA have requested further financial information from the Supporters Trust regarding their possible takeover.