Baffoe - Ghana must 'attack' at Africa Cup of Nations
By Matthew Kenyon
BBC Sport, Malabo
Last updated on .From the section Football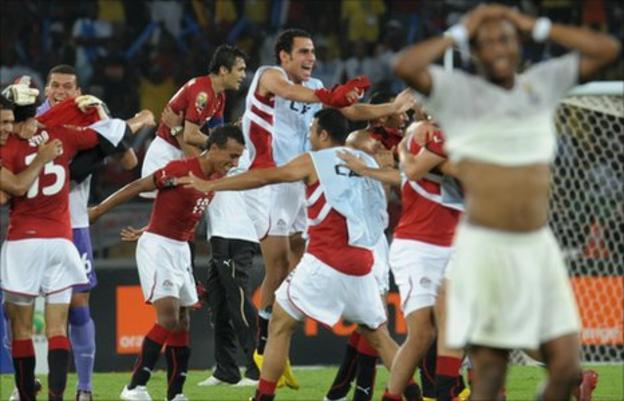 Ex-Ghana defender Tony Baffoe says the Black Stars will have to "attack" in their opening game against Botswana at the 2012 Africa Cup of Nations.
The Black Stars will play the Zebras, plus Mali and Guinea in Group D.
Botswana are making their debut at a Nations Cup and Baffoe says that could be dangerous for Ghana.
"Botswana will be very excited and it'll be a big motivation for them to play against giants like Ghana," he told the BBC in Malabo on Saturday.
"It's important for us to attack the first game well [because] big teams mostly start slowly [at the Nations Cup]."
But he is confident that Ghana can go on and challenge for the title, which they have not won since 1982.
"We're a balanced group and we are the favourites - in the last five to six Nations Cups Ghana has always been amongst the favourites," Baffoe said.
"We have to live with that, we have to assume the pressure but I'm confident we're going to go to the second round."
Ivory Coast are the second favourites for the title and are in a group with Sudan, Burkina Faso and Angola.
"I can't say who's got the best draw [between Ivory Coast and Ghana]," Baffoe said.
"There are no minor teams any more. That's not just words - its very important to take your opponents seriously, because there are always surprises at a tournament."
He picked out Senegal and Niger as teams to watch out for - and warned that the two host nations, Gabon and Equatorial Guinea, will have a strong chance because of home advantage.
"How are they going to play with home support? How are they going to take the pressure? I'm sure there are going to be some surprises."
Ghana's first match is against Botswana in Franceville in Gabon on 24 January.
The Nations Cup kicks off on 21 January in Bata, when Equatorial Guinea play Libya.
The final is in Libreville on 12 February.