Manchester United boss Sir Alex Ferguson surprised by race rows
Last updated on .From the section Football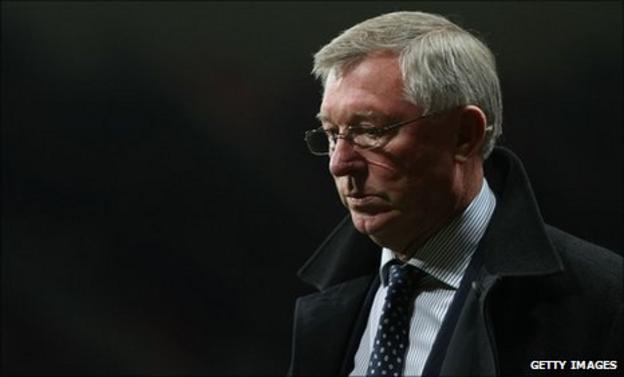 Manchester United boss Sir Alex Ferguson says he cannot believe race rows still occur in the Premier League.
The 69-year-old Scot said: "I don't know if it's just a coincidence that two cases are going on.
"Let's hope we don't get three - but this is 2011, for goodness sake."
Evra told Ferguson he wanted to pursue his allegations of racism against Suarez after making the claims following United's 1-1 draw at Anfield.
The Football Association is also looking at claims that Terry racially abused Queen's Park Rangers defender Anton Ferdinand.
Both Suarez and Terry have strenuously denied the allegations.
Ferguson, who celebrates 25 years in charge at Old Trafford next week, has seen a huge rise in the number of foreigners playing in England during his time managing in England's top-flight.
He said: "I can't believe there is any sort of issue over race in the game given the number of black players who take part.
"It's such a rare, rare occurrence for this sort of thing to surface.
"I can't even remember the last time allegations of this sort were levelled against a player."
QPR owner Tony Fernandes does not believe racism is prevalent in English football, despite the claims made against Terry.
The Malaysian businessman told BBC Radio 5 live's Sportsweek: "Coming from a foreign country, I don't feel there is much racism in football.
"English football should be proud of what we've achieved."
In a statement released after QPR's 1-0 win over Chelsea at Loftus Road, Terry, 30, said the incident between him and Ferdinand - which only came to light when viewers of video replays claimed to see Terry use a "racial slur" - was a "misunderstanding".
On Thursday, Ferdinand, 26, told the Daily Telegraph that he had not heard what Terry was alleged to have said but thanked those within the game who had supported him.
Fernandes said he had spoken to the former Sunderland man to offer his backing.
Former England winger John Barnes, who suffered racist abuse as a player, said that he was not surprised to hear the allegations of racism in football.
"I'm not shocked," the former Liverpool man told Sportsweek. "We're very naive if you think we do not have racism in football. We have to stop people thinking it, not just saying it.
But Barnes stressed that he did not believe that Terry was racist.