The Ferguson files - 25 years at Manchester United
By Shamoon Hafez
BBC Sport
Last updated on .From the section Football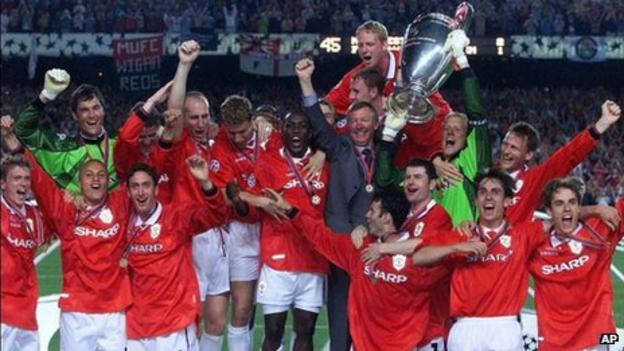 Sir Alex Ferguson celebrates 25 years as manager of Manchester United on 6 November. It has been a remarkable period in charge for the Scot, who turns 70 in December.
TROPHIES AT MANCHESTER UNITED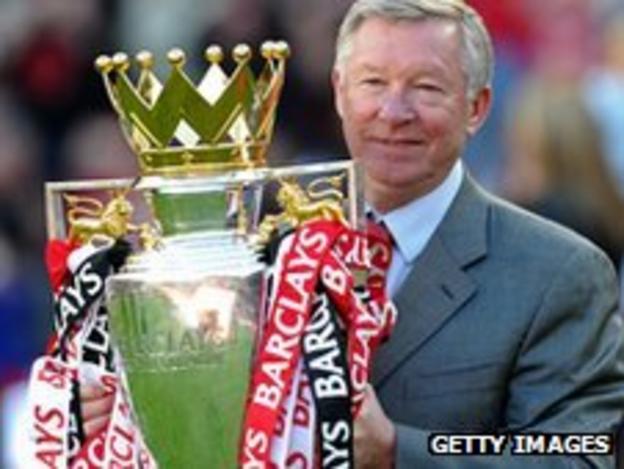 2 European Cups
5 FA Cups
4 League Cups
10 Charity/Community shields
1 Cup Winners' Cup
1 European Super Cup
1 Intercontinental Cup
1 World Club Cup
WHAT HE SAID
"I want to knock Liverpool off their perch," on joining Manchester United in 1986.
"I can't believe it. I can't believe it. Football. Bloody hell," after winning the 1999 Champions League final against Bayern Munich.
"It's getting tickly now - squeaky-bum time, I call it," during the 2002/03 title race.
"It was a freakish accident. If I tried it 100 or a million times it couldn't happen again. If I could, I would have carried on playing," explaining how he kicked a boot that hit David Beckham in the face.
"I'm privileged to have followed Sir Matt because all you have to do is to try to maintain the standards that he set so many years ago," after equalling Sir Matt Busby's record for most games in charge of United.
"Pippo Inzaghi was born in an offside position," on Italian striker Filippo Inzaghi.
"I am such a talented guy. I might go into painting or something like that," on life after management.
WHAT THEY SAID
"He is the best manager of his generation for me. I just know he is a special, special man - I knew he would be a success at United - absolutely no danger." Former Manchester United midfielder Gordon Strachan
"He expected standards to be high and if you didn't reach those standards or you let them slip he would be quick to remind you. He is a fantastic man-manager and great to work under." Ex-United defender Denis Irwin
"The boss defends his players to the hilt and that's why he gets great respect from the players. They know they can trust him 100%. It is something on which the whole foundations of this club are built." Manchester United defender Rio Ferdinand
"I know the pressure he has had to endure over such a long period, so for him to keep driving himself forward and driving his team forward is a fantastic achievement." Ex-United striker Mark Hughes
"He achieves one thing and then, as they say, moves on to the next mountain and the next mountain is higher and that's what he does. He has built four or five successful teams and that proves how great he is." Ex-England manager Sven-Goran Eriksson
KEY MOMENTS
January 1990 - In his third year, and still trophyless, United faced Nottingham Forest in the FA Cup and a Mark Robins strike gave Ferguson's side a 1-0 win. It was claimed that, had United lost that game, Ferguson would have been sacked. Former chairman Martin Edwards has always denied that the manager would have gone.
May 1990 - United won their first trophy under Ferguson after a replay victory over Crystal Palace in the FA Cup final. United had lost 5-1 at rivals Manchester City in the league the previous September.
May 1991 - A 2-1 win over Barcelona in Rotterdam, with Mark Hughes scoring both goals, ensured United won the Cup Winners' Cup.
1992-93 - United ended a 26-year wait for a top-flight title with the first of their 12 Premier League successes. Eric Cantona, who arrived for £1.2m from Leeds United in the summer of 1992, played a pivotal role.
1994-95 - Lost out to Kenny Dalglish's Blackburn Rovers side in the title race and humbled 4-0 by Barcelona at the Nou Camp in the Champions League.
1998-99 - The Treble. Won the Premier League, FA Cup and European Cup, with their Champions League victory coming after two dramatic late goals against Bayern Munich at the Nou Camp in Barcelona.
2001-02 - United endured a disappointing season, dropping out of the top two for the first time in 11 years and failing to win a trophy. Ferguson announced he was to retire but reconsidered and signed a new deal at the club.
2005-06 - Crashed out of the Champions League group stages for the first time and finished as runners-up to Chelsea in the Premier League. Influential midfielder Roy Keane was allowed to leave the club. Some suggested Ferguson was "past it" and that the time had come for him to step down.
2007-08 - United won their 10th Premier League title and a penalty shoot-out victory over Chelsea in the Champions League final in Moscow meant the club lifted their third European Cup.
2008-09 - Another Premier League title was delivered and United had the chance of being the first side to retain the Champions League but were defeated by Barcelona in Rome in the final.
2010-11 - United secured their 12th league title under Ferguson and 19th overall, surpassing the 18 won by rivals Liverpool. However, they still could not overcome the hurdle of Barcelona, once again losing to the Spaniards in a Champions League final, this time at Wembley.
2011-12 so far - Beat Arsenal 8-2 in August but suffered a humiliating 6-1 defeat at home by rivals Manchester City in October. Ferguson described it as his "worst-ever day" as a manager.