Defensive partnership key to Rangers strength
By Andy Campbell
BBC Sport Scotland
Last updated on .From the section Football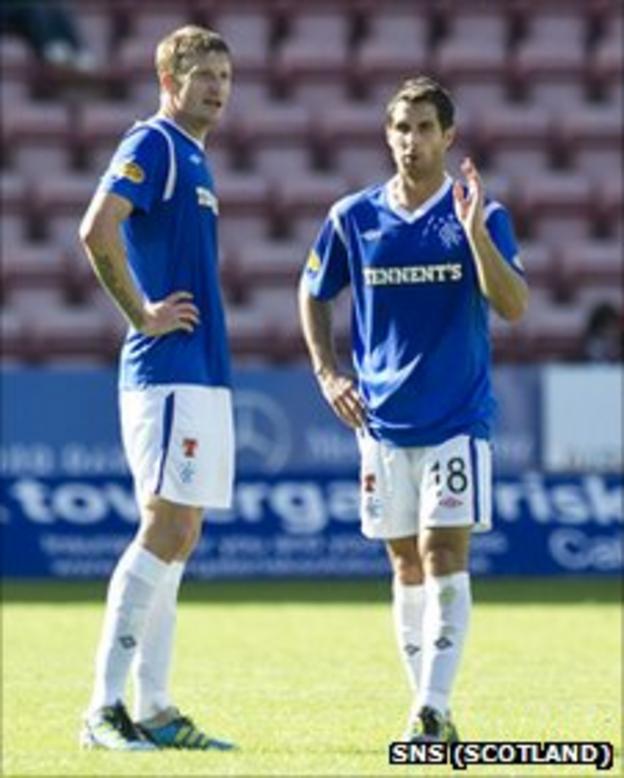 Rangers continued their 100% away record in the Scottish Premier League with victory over Aberdeen on Saturday.
And, although the division leaders lost their first away league goal of the season late in the match, former Ibrox defender Craig Paterson has been impressed by the performances of Rangers' new rearguard.
The regular back four has undergone some changes since the summer, with Madjid Bougherra and David Weir having marshalled the defence during Rangers' three successive championships under former manager Walter Smith.
Bougherra left shortly after the start of the new campaign, while Weir has been unable to regain his place after an early season injury.
Manager Ally McCoist signed up Dorin Goian and Carlos Bocanegra while Rangers were negotiating European qualifying fixtures and, although continental involvement ended before September, the new central defenside partnership has impressed Paterson.
"I think a lot of the credit goes to the manager because he's taken over a team who had a specific way of playing and it's been successful and he's gone in there and he's more or less just put the same thing into practice," said BBC Scotland pundit Paterson. "If it ain't broke, don't try to fix it.
"I know the Rangers fans have been bitterly disappointed that they're not in Europe and even more so that the League Cup is now a thing of the past, but in terms of the league championship it's been an absolutely terrific start from Ally McCoist.
"It might be good fortune, it might be brilliant management, but he's found in Dorin Goian and Carlos Bocanegra, two lads who seem to be really good together.
"People underestimate the importance of a partnership at the back. In my day, the best partnership in the business was Alex McLeish and Willie Miller at Aberdeen.
"Because they were so good together, Alan Hansen, one of the best players that we ever produced, with eight league championships and three European Cups, ended up with a miserly 26 Scotland caps because Alex McLeish and Willie Miller were such a fabulous partnership.
"At the moment, the two guys at Rangers look like they love playing together and they've got a habit of not losing any goals.
"They've a lovely balance in terms of the way they play because a lot of managers like the idea of one centre-back being right-sided and one being left-sided. Both can pass the ball and both are comfortable coming out with the ball.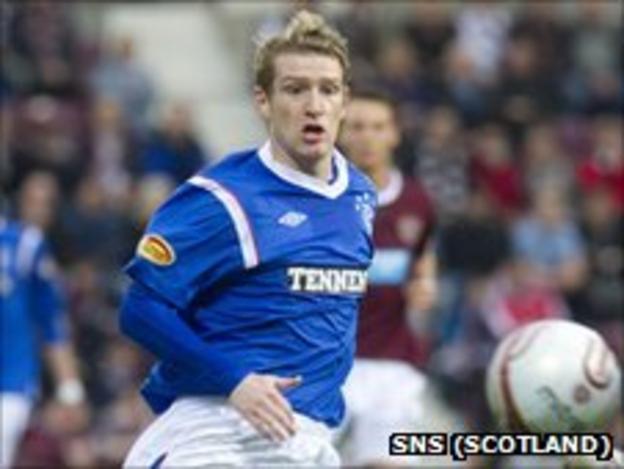 "It seems to have come together, which I'm sure is a delight for the management team."
In Weir's absence, Steven Davis has assumed the role of captain and Paterson believes the midfielder is flourising in a central role.
"Every season since he's been at the club, I can't remember him ever dropping his standard," said Paterson.
"Sasa Papac, for me, comes in the same mould. You don't notice how well these lads are playing because you just see them do it week in, week out.
"This season, Steven Davis, back in the middle, can dominate games. He was excellent when he played in the wide area, but when he plays in the middle, he's the boss and things go through him. He's a top performer."
A serious injury for Steven Naismith cast a shadow over Rangers' victory at Pittodrie and Paterson believes it will be difficult to replace the forward.
"If you were looking for Rangers' best player, 90% of people would come up with the name of Steven Naismith," added Paterson.
"You're just hoping that, not only for Rangers but for Scotland as well, this injury is not as serious as it looked at Pittodrie at the weekend and that he'll be back as soon as possible, because he's going to be a huge miss."