Craig Levein criticises Dundee United for timing of Houston backing
Last updated on .From the section Football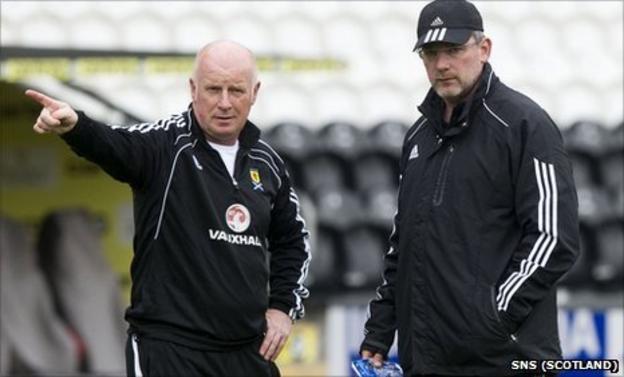 Scotland boss Craig Levein has criticised Dundee United for failing to back their manager sooner.
"I'm angry because they should've come out long before now and dismissed all this nonsense," said Levein.
"I don't know where this has come from, but if someone behind the scenes has been briefing the press, then that's disgraceful."
Levein was manager at Tannadice until 2009, when he left to become Scotland boss.
Houston won the Scottish Cup in his first season in charge, but has struggled this season; Saturday's win over Dunfermline was only the club's second in 11 Scottish Premier League fixtures.
"Housty has had a really difficult job this season," said Levein, speaking on BBC Scotland's Sportscene.
"We built a team there but a lot of them left in the summer. He has had to start again, almost - and he's had his wage bill cut and lost his best players.
"The club should have come out a while ago to say 'look, we are going through a transitional period, we are working with younger players and it's going to take time'.
"For anyone to question the job he has done there is just ridiculous. It's hard enough being a football manager but particularly when you have lost your best players.
"I feel very strongly about it and am glad to see this statement has been made, but it should have been made far, far earlier."