Bristol Rovers boss Buckle reveals Campbell stalemate
Last updated on .From the section Football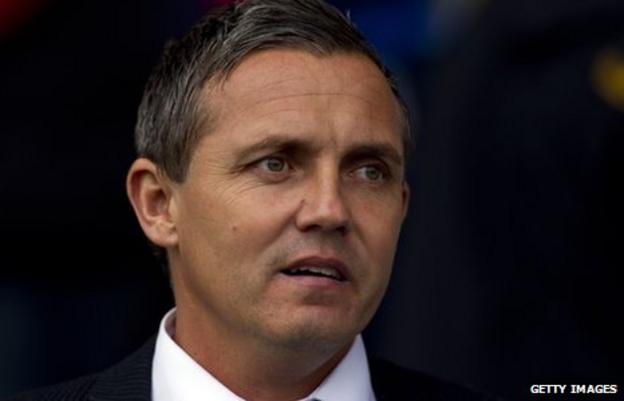 Bristol Rovers boss Paul Buckle says he is not willing to give Stuart Campbell a new playing deal after the midfielder did not accept the offer of a player-coach role in the summer.
Campbell, 33, is contracted at Rovers until the end of the season.
But after failing to commit to a role on the Pirates' coaching staff, Buckle has now touted Campbell to other clubs.
"I understand the supporters love him but I showed my loyalty in the summer straight away," said Buckle.
"At 33, I said to Stuart 'I don't see you playing 50 games a season' - that's in my professional opinion and I'm here to do the best for this football club.
"He's never accepted the player-coach role. It's been on the table since day one. He got given black kit and blue kit in the summer and was asked to be part of my staff, which I take very seriously by the way.
"It's his prerogative to turn that down but there's no new two-year contract going to be offered in October."
Speaking to BBC Points West last week, Buckle said that Campbell's advisor had sent him an email stating the player's desire for a new, improved deal at Memorial Stadium but negotiations had broken down between the two parties.
But Campbell, who was caretaker manager at Rovers prior to the arrival of Buckle, was quick to respond to the claims and told the local press he has no desire to leave Rovers.
Campbell was not in the squad for Saturday's win over Dagenham & Redbridge, but fans voiced their support for the midfielder during the game.
"I was singing it with them. Why wouldn't I? I've got nothing against Stuart Campbell," continued Buckle. "I've treated him with integrity, respect and professionalism since I came to the football club.
"I've paid total respect to the players that are here, and Stuart is no different.
"Nobody works out their future with a year still to run.
"I'm here to make the right decisions for the football club - short, medium and long term."