AFC Bournemouth owners target Dean Court stadium purchase
Last updated on .From the section Football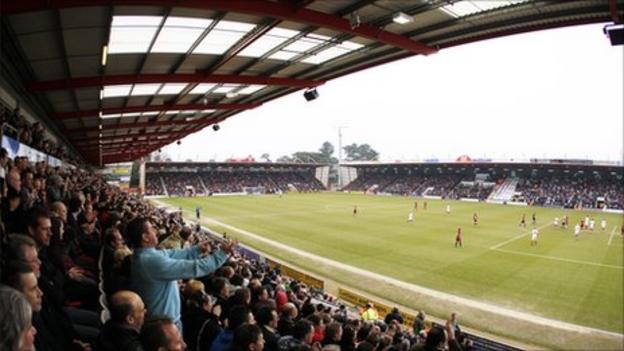 Bournemouth chairman Eddie Mitchell has revealed the club have failed with two attempts to buy back Dean Court.
The club sold Dean Court in December 2005 in a sale-and-leaseback deal with London property company Structadene.
But the Cherries recently acquired new investment which saw an unnamed businessman buy a 50% stake in the club sharing joint ownership with Mitchell.
"I would like to confirm we have failed in two bids and the highest was £4.5m," Mitchell told BBC Radio Solent.
Meanwhile, the Cherries have recently submitted plans for two full-sized and two five-a-side pitches costing about £400,000 on currently unused land next to Dean Court in Kings Park.
The new pitches are part of the Cherries' ambitious plans for the stadium, which include a £6m stand, new 5,000-seater enclosure at the South End, hotel, spa complex and offices.
Mitchell believes the offer to Structadene was fair, considering the amount they originally let it go for, which is thought to be around £3m.
Bournemouth's co-owner also warned the club were looking at other options if the stadium purchase did not materialise.
"I don't think it makes commercial sense to increase that bid above that ceiling of £4.5m," Mitchell said.
"At this moment in time that bid has been rejected so we've got to look at what options we've got, where we invest and when we invest and how much we invest.
"There are always other avenues. There are other venues for example, not that we would want to go to other venues. Football has been played at Dean Court for over 100 years and we would not want to change that.
"We've no intention of moving but if it is not financially sensible to buy the stadium back then perhaps the money that is available would be best pointed in different directions.
"We have got an ongoing lease at the club which does secure our future playing there providing the rent is paid.
"We've also now got a 125-year lease on the South Stand and maybe some money could be spent on developing it for other purposes to help the club. We've got to explore every avenue."