Dunfermline chairman backs manager Jim McIntyre
By Alasdair Lamont
BBC Scotland
Last updated on .From the section Football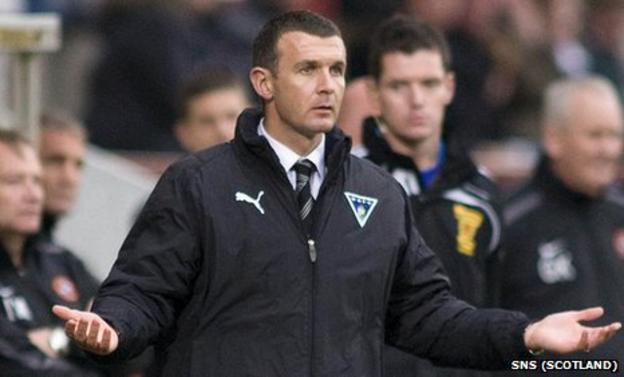 The Dunfermline chairman John Yorkston is confident manager Jim McIntyre can preserve the club's top flight status.
Having won promotion to the Scottish Premier League last season, Dunfermline started well, remaining unbeaten in their first four games.
But since then they have taken just two points from a possible 24.
"We're sure that given a good run of fitness with the players, Jim will be able to move us up the table," Yorkston told BBC Scotland.
"He plays good attractive football, he uses wingers and we enjoy watching that.
"It's what the fans want to see - good, attacking football. Yes you want wins, but I think at Dunfermline they're quite happy watching someone who has you on your toes."
McIntyre took charge at Dunfermline in December 2007 after the departure of Stephen Kenny and eventually led them to promotion last term.
But with a small budget and a recent admission by the club that a return to the SPL had not brought about the financial upturn they had expected, McIntyre's task in keeping the club up is an arduous one.
They currently sit second-bottom of the table, a point above Inverness Caledonian Thistle, though they do have a game in hand against Celtic.
Yorkston and the rest of the board have begun a series of initiatives aimed at filling the shortfall in the club's expected revenues for the season, including an executive club they hope supporters will buy into.
Asked whether there might be money for McIntyre to strengthen his squad in January, Yorkston added: "We'll have to see nearer the time.
"Obviously, if we get the support we're hoping for from the fans for the executive club then it makes that decision that much easier. But we have to see what the gates are between now and then and what the other financial implications are about the club.
"We'd like to strengthen the squad. I think every club wants to strengthen their squad in January, but we do have a decent squad if we can get them all fit."
Yorkston admitted attendances had been lower than he had anticipated this season, partly down to the number of Dunfermline games shown on live television.
But while he remains generally optimistic about the future for his own club and that of Scottish football as a whole, he is convinced that league restructuring is still necessary.
"I think we need a bigger league," he added. "There would be more balanced teams. Celtic and Rangers have their own agendas. They've made it clear they want to leave.
"But you can't keep talking the league down as they are. They're talking about wanting out of it, about the thing being grim, but it's what you make of it.
"A lot of us would be happier with a bigger league with less money each. There are huge gaps between the Premier League and the First Division.
"Rather than a million pounds in the Premier League, we'd probably be happier with £600,000 in a 16 or 18-team league."
League reconstruction, however, has slipped down the agenda at the SPL following the recent failure to push through either a 14 or 10-team top league.
So, for now, Dunfermline are concentrating solely on staying in the top 12.