Council wants to help Chelsea stay at Stamford Bridge
Last updated on .From the section Football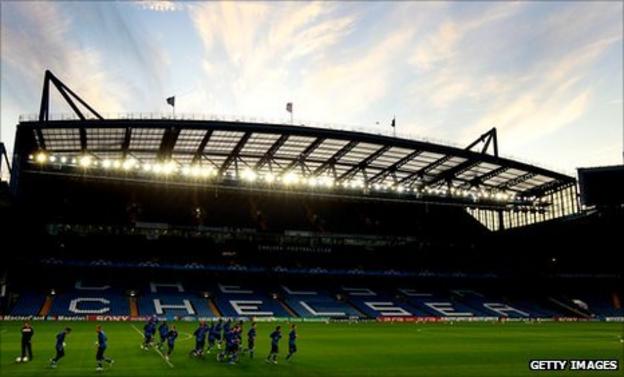 Chelsea's local council has expressed its commitment to keeping the Blues at Stamford Bridge.
Club bosses had wanted to buy back the stadium from a group owned by fans, a step which could have facilitated a move to a new venue.
But that group, the Chelsea Pitch Owners (CPO), rejected an offer made by Chelsea FC to purchase the ground.
Hammersmith and Fulham Council stated its "commitment to help the club remain at its historic home."
The CPO acquired the freehold to the stadium in 1997 to prevent the sale of Stamford Bridge to developers in the event of the club experiencing financial difficulties.
There had been reports that Chelsea owner Roman Abramovich would profit from any move away from their current home, but this was denied by the club.
The council's decision to try to keep Chelsea at their home will come as a major boost for both the fans and the club.
A Hammersmith and Fulham Council spokesperson said: "The council now proposes to examine whether there are planning options to expand Stamford Bridge to accommodate a larger capacity, recognising that such a project must be economically viable, benefit local businesses and not unreasonably affect residents."
Chelsea also released a statement praising the council's decision: "Chelsea Football Club welcomes the London Borough of Hammersmith and Fulham's commitment to see the club stay in the borough and importantly their recognition of our need for greater capacity at Stamford Bridge."
The desire of Chelsea to expand their stadium has grown after new rulings by European football's governing body Uefa, which will attempt to put a stop to clubs spending beyond their means.
This has forced teams to look for options to increase revenues and Stamford Bridge's current capacity of 41,837 is far lower than Premier League rivals Manchester United (over 76,000) and Arsenal (60,000).