Michael Chopra reveals £2m betting losses
Last updated on .From the section Football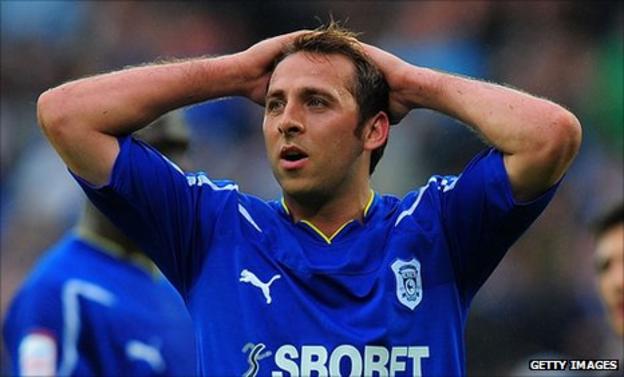 Ipswich Town striker Michael Chopra has revealed the extent of his gambling addiction, estimating he has lost as much as £2m through betting.
And he has even admitted to playing with injuries in the past in order to collect his appearance fee.
"I have probably lost between £1.5m and £2m on gambling," he told Sky Sports News.
"Your first bet's your worst bet. As the years have come along and I've earned more money I've started to gamble more.
"I was gambling up to £20,000 a day at times. As soon as I'd step over the white line I would focus on football - but as soon as I got to the dressing room I would check my phone to see if I'd won.
"As a gambler you want to be playing to get the appearance money. I was playing through injury to cover a debt."
Chopra, who has fought the addiction throughout the majority of his career, said his £5m transfer from Cardiff to Sunderland in 2007 was motivated by his desire to collect a signing on fee to pay off gambling arrears.
"In my first season at Cardiff I had a gambling debt from when I was at Newcastle," explained the former England Under-21 international.
"I had to leave Cardiff and sign for another team to pay that debt off."
Chopra, who has amassed 92 goals in 265 league games for Newcastle, Watford, Nottingham Forest, Barnsley, Cardiff, Sunderland and Ipswich, checked into the Sporting Chance rehabilitation clinic in early October.
But Ipswich boss Paul Jewell has said he will continue to play the forward, who insists he is focused on his career at Portman Road.
"The main thing now is to get promoted with Ipswich. They've backed me and I want to pay them back," he said.