Hearts tell high earners they can find new clubs
By Chris McLaughlin
BBC Scotland
Last updated on .From the section Football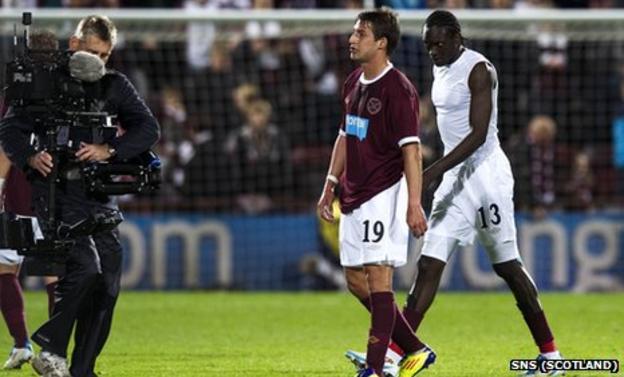 Hearts are believed to have told selected high earners to find new clubs following a meeting with board members at the Scottish Premier League club.
Two senior sources at Hearts have denied that advice was given but admitted that a meeting took place.
They have confirmed that every player has their price in the current climate.
But it is believed that players have also been informed that the Edinburgh outfit must undergo a major cost-cutting exercise.
BBC Scotland understands the club are confident of getting through this period but are looking to reduce the wage bill dramatically and cut outgoings in other areas.
The meeting with players took place amid concerns over the late payment of wages.
It also came the evening before a motion was due to be heard about unpaid taxes at the Court of Session in Edinburgh.
HMRC had originally petitioned for a winding-up order against Heart of Midlothian plc but applied to have it dismissed after the £500,000 bill was paid last week.
Hearts players' were due to be paid on 16 October, but the promised late payment has failed to materialise for a second time.
And a Scottish Premier League source told BBC Scotland that, if a formal complaint is received from a player, it could divert money due to the club directly to the squad.
The SPL makes regular payments to top-flight clubs, distributing money from their commercial ventures.
A number of players have already been hit by bank charges after defaulting on direct debits.
The Scottish players' union has written to Hearts outlining their concerns but has yet to receive a reply.
Some non-playing staff and youth players are not affected by the problem, for which the club have given no explanation.
Last month, Hearts said in a statement that players would be paid "in the near future" and that those involved had been spoken to.
The disgruntled players could take their case to Fifa, citing a fundamental breach of contract without just cause.
If the world governing body agrees, the players could apply to be released from their contracts, allowing them to seek employment elsewhere.
The Edinburgh club are currently not co-operating with the media over coverage of disciplinary action by the Scottish Football Association against their manager, Paulo Sergio.
Fears over Hearts' finances also increased as a result of owner Vladimir Romanov's latest statement on the club's website.
Criticising the standard of the game in Scotland, the Lithuania-based businessman: "Entrepreneurs and various large businesses turned their backs on that sort of football and left this national heritage to the mercy of its own fate.
"That sort of outrage from the media, federation and tax authorities kills everyone who is trying to change this situation, including ourselves, who are ready to invest in Scotland once again with stadium plans. And no-one is interested in what's going on.
"This is why I think there is no point in spending millions to watch someone else's show."
Romanov, who has been silent on the issue of delayed payments, once again launched an attack on the game's governing bodies and media coverage in light of action being taken against Sergio following his comments about referee Iain Brines.