Black Stars seek government cash for Cup of Nations
By Matthew Kenyon
BBC Sport, Malabo
Last updated on .From the section Football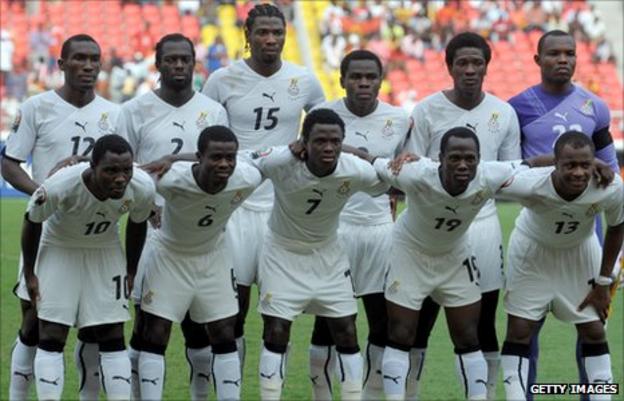 Ghana will be looking to the country's government to back their campaign for the Africa Cup of Nations financially.
The Black Stars have not won the title since 1982 but go into Equatorial Guinea and Gabon 2012 as favourites.
Ghana FA boss Kwesi Nyantakyi told the BBC that a serious bid for the continental crown needed money.
"We'll have to sit down with the minister for sport and the government to discuss the huge financial bill for this," Nyantakyi said.
"This goes to motivating players by way of payment or bonuses - you also have assess the adequacy of your technical team.
"In going for competition you have to ask whether you need extra staff? Do you need more medical staff? You also need to look at support for the technical team by getting material and information that they need to really assess their opponents."
The GFA is checking accommodation and security arrangements in Franceville in south-east Gabon, where the team will play all three of their group games.
The Confederation of African Football (Caf) pays for a delegation of 30 people for each country - so any additions have to be funded from elsewhere.
Whilst Ghana are favourites for the tournament, Botswana - who are in the same group as the Black Stars - are making their debut in the event.
But they too say they need financial backing from their country's authorities if they are to prepare properly for the Nations Cup.
"We have some financial problems but our government is helping us," the BFA's vice-president Dintle Mphele told the BBC.
"They are giving us some money to go through this. They have been helping us with the preparations ever since we started and they are not about to stop assisting us."
Whether the investment is worth it will depend on how the teams perform on the pitch in January and February.
The Nations Cup kicks off on 21 January in Bata when co-hosts Equatorial Guinea play Libya and ends with the final in Libreville on 12 February.