Pressure is on to lift Spartans - Blyth boss Steve Cuggy
Last updated on .From the section National League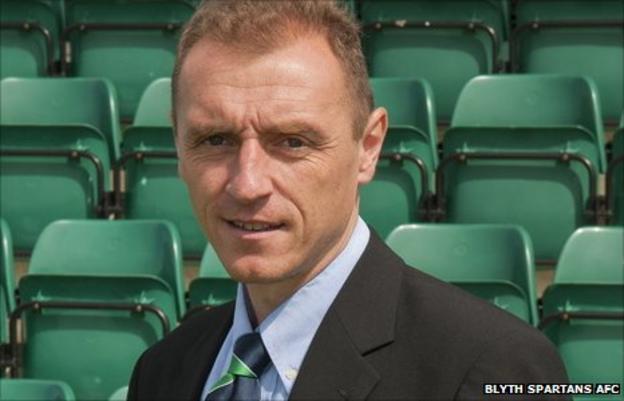 Blyth boss Steve Guggy says he and assistant Gavin Fell have a crucial role to play in preparing the squad for this month's FA Cup tie with Gateshead.
Spartans were 2-1 winners against Droylsden in Tuesday's fourth qualifying round replay to book a derby with their local rivals on 12 November.
"The pressure is on Gavin and I to get 100% from the players to give Gateshead a game," Cuggy told BBC Newcastle.
"Hopefully we'll be able to do that and have a memorable match."
Cuggy added: "If it's as good as tonight's game, I think no-one could complain."
Ian Bogie's Gateshead side eliminated their local adversaries in last season's FA Trophy fifth round, before bowing out to Darlington in the semi-finals.
Former Hearts striker Jamie Mole was the hero for Blyth against Droylsden, netting twice on his home debut.
The 23-year-old grew up in Newcastle and is aware of the significance of the game to come at Croft Park.
"At home, there will be a packed house with all the fans," he said.
"We're more than confident if we play the way that we've played tonight that we can win it."
Spartans' FA Cup legacy goes back to the 1977-78 when the club, who were in the Northern League, reached the fifth round before losing to Wrexham.
More recently the club were conquerors of League One side Bournemouth in the 2008-09 competition, earning a tie against Premier League side Blackburn Rovers, who were too strong at Croft Park in the third round.
"It's a huge result in many ways, it's the FA Cup and everybody knows how much it means to Blyth Spartans fans," Cuggy added.
"It was the number one goal for me and Gavin, get a few wins in the Cup because that's what really gets this place going.
"It's only going to go one way now for us."