MPs ask Fifa for World Cup bid review
Last updated on .From the section Football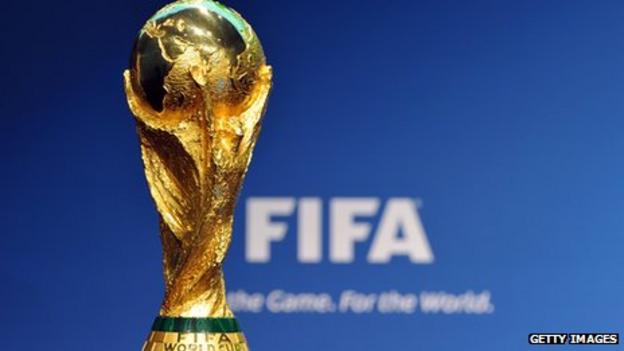 A UK Parliamentary report has called on Fifa to commission an independent investigation of the bidding processes for future World Cups.
Former Football Association (FA) chairman Lord Triesman made a series of allegations against Fifa executives in May.
MPs on the Commons Culture, Media and Sport Committee also expressed concern that allegations from a whistle-blower - later withdrawn - against Qatar's winning bid for the 2022 tournament were not investigated.
"We remain concerned that no apparent effort was made by Fifa to investigate these allegations when they were put to them and that others - specifically those made by Lord Triesman - remain," the report said.
Damian Collins MP, a member of the committee, told the BBC: "There have been investigations into what happened in the election process for the Fifa presidency.
"It seems if you stand against [Fifa president] Sepp Blatter they will throw the book at you but other allegations - which matter more to more people - are yet to be fully investigated."
Fifa did not offer a "specific response" to the report but stressed that four task forces were set up to propose reforms to the organisation in October.
Their suggestions are due to be submitted to Fifa's Executive Committee in December.
Fifa has experienced a turbulent few months since Mohamed Bin Hammam was forced to withdraw from the Fifa presidential election in May over claims he bribed members of the Caribbean Football Union at a meeting in Trinidad.
Bin Hammam continues to deny the allegations but a Fifa ethics committee hearing found the Qatari guilty and he has since been banned for life from all football activities.
Fifa vice-president Jack Warner was also implicated in the bribery allegations and resigned from the organisation in June before Fifa's inquiry against him could be completed.
The Culture Media and Sport Committee said it continued to be worried by the legacy the allegations have left.
"Our concern is that the governance failings revealed by [the Warner and Bin Hammam affair] are symptomatic of a wider governance failure within Fifa, and we stand by our recommendation that it commission a full, independent investigation of the bidding processes for the 2018 and 2022 World Cups, and for the outcome to be made public."
MPs gave a cautious welcome to reforms announced by Blatter following last month's meeting of Fifa's executive committee.
The Fifa president unveiled new measures designed to increase the transparency of the organisation and answer criticism over the way it governs itself.
Meanwhile, airline Emirates has said it has yet to begin talks with Fifa over renewing its partnership agreement.
A senior sponsorship executive for Emirates was quoted as telling Australian trade magazine B&T: "We are seriously thinking about not renewing our partnership with Fifa beyond 2014.
"We don't get into politics but we believe the situation with Fifa went beyond an internal problem and became much bigger."
An Emirates statement issued on Wednesday acknowledged the quotes but said only that: "Emirates has not yet commenced discussions with Fifa on the extension of our partnership agreement beyond 2014. Discussions will begin in due course."