Fifa steer clear of Zengue's Burkina Faso eligibility
Last updated on .From the section Football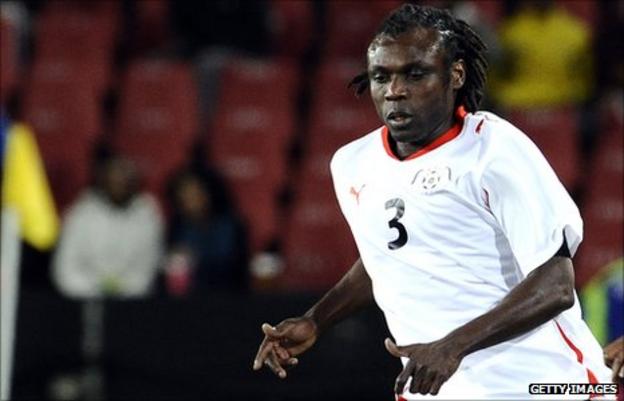 Fifa has said it will not get involved in the case surrounding Herve Zengue's eligibility to play for Burkina Faso.
Football's world governing body insisted that it was up to national associations to police themselves when using foreign-born players to make sure that they complied with regulations.
Namibia are appealing against a ruling by the Confederation of African Football (Caf) over the loss of a protest against Burkina Faso's use of Cameroon-born defender Herve Zengue.
He played in two 2012 Africa Cup of Nations qualifiers against the Brave Warriors, who insist Zengue was not born in Burkina Faso, had no blood ties with the country and had never lived there.
Caf rejected the protest on a technicality at the weekend, saying, among other things, that it was not written on the correct form.
The Namibia Football Association says it is prepared to take their case to the Court of Arbitration for Sport if necessary.
"It is the responsibility of the association intending to summon and field a player for one of its representative teams to examine if the player is eligible to play for them or not," Fifa told Reuters in a statement.
"This means that they have to verify if all the rules are followed.
"We cannot comment on that (Caf) decision."
"Neither are we in a position to establish whether the player is or is not eligible to play for the representative teams of Burkina Faso, since, as already mentioned previously, this is the responsibility of the association."
Burkina Faso had at one point approached Fifa over the player's eligibility but said it "did not receive any follow-up from the association concerned".
The Stallions, who have qualified for next year's Nations Cup, said Zengue, who plays for Russian Premier League side Terek Grozny, had been given a passport because he was married to a Burkinabe women.
However, Fifa statutes say that, in addition to being granted nationality, a naturalised player must have lived in his adopted country for at least five years.
Fifa altered the regulations in 2004 to avoid situations where players simply needed to obtain a passport to play for their adopted nation.