Paul Hartley concern for future of Hearts
Last updated on .From the section Football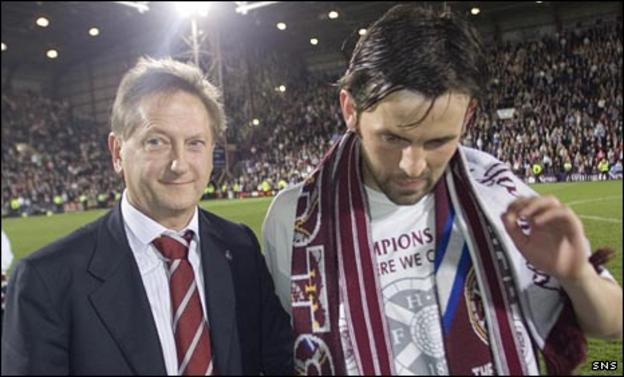 Former Hearts midfielder Paul Hartley has concerns about the future of the club after players' wages were left unpaid for a third week.
Hartley was one of the senior players, dubbed "The Riccarton Three", who voiced their anger to the media about the running of the club in 2006.
"I was fortunate when I was there it was nothing to do with wages and not being paid on time," said Hartley.
"It was other stuff that was going on. I think this is far more serious now."
The players' union has written to Hearts without receiving a reply and some of the squad could turn to the Scottish Premier League or world football's governing body, Fifa, in an attempt to resolve the situation.
In a statement on Hearts' own website this week, owner Vladimir Romanov questioned the sense of spending millions of pounds on the club when the Scottish game is so dominated by the Old Firm of Celtic and Rangers.
And Hartley, now manager of Third Division club Alloa Athletic, thinks that the Lithuanian-based businessman's words should worry the club's fans.
"I think they should be really concerned," he told BBC Scotland in light of the club's heavy debt burden. "Maybe it's just the time he wants to get out.
"It has happened in the past that they have not been paid, but it is longer now and maybe he has had enough.
"But where do Hearts go from here? Who comes in and spends £30m on a Scottish football club?
"Nobody wants to invest in Scottish football and I have real concerns about the club."
Hartley believes that Romanov has squandered the opportunity to fulfil his ambition of challenging Glasgow's big two clubs.
"I am not saying he's not put a lot of money into the club, he has," said the former Hearts midfielder.
"But, if he had done things right, Hearts could have challenged for the title, there's no doubt.
"If he had done it the right way and kept the right manager and the right players, they could have had a right go and been challenging every year."
Hartley joined fellow Scotland internationals Steven Pressley and Craig Gordon in hijacking a media conference after remarks made by Romanov about the club's players.
However, while the Alloa manager has no regrets about their own action he would hesitate to recommend something similar for today's squad.
"We felt we had to do it in the interest of the players and the club, but we suffered the consequences at the end of it because the three of us were later sold," he said.
Hartley recognised that, as in his day, there is a split in the dressing-room because some players are more loyal to Romanov.
"The captain's Lithuanian," he said. "He's not going to come out and say too much for fear of his own future.
"Maybe there's not enough leadership or players are maybe just too scared for their jobs.
"We had four or five guys from Lithuania. I am not saying they were bad guys.
"We were a team, but we weren't united when we went to do this because the guys feared for their jobs because Mr Romanov had brought them over from Lithuana and they were not going to jeapardise that."