London 2012: Ramsey tries to calm GB team fear
Last updated on .From the section Football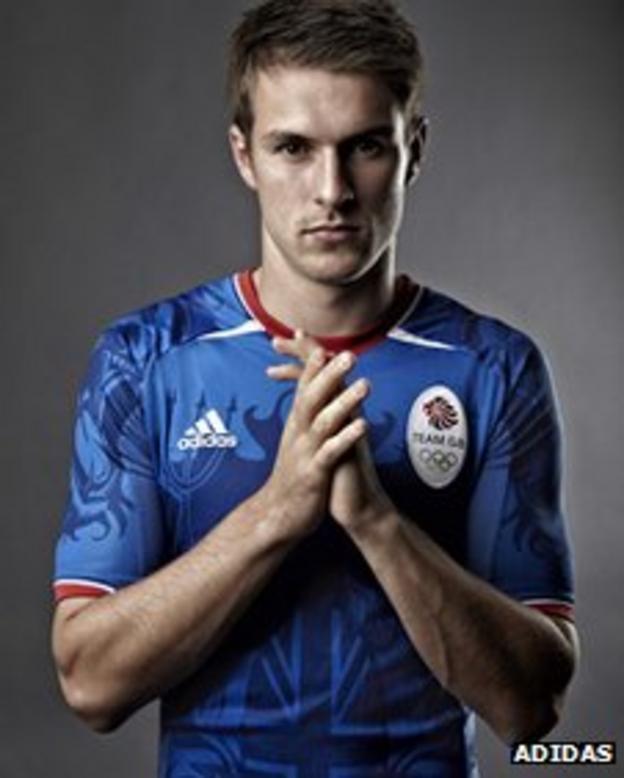 Wales captain Aaron Ramsey has assured fans he will not play for Great Britain at the Olympics if it threatens Wales' international footballing independence.
Ramsey has followed compatriot Gareth Bale's controversial lead by posing in a Great Britain supporters' shirt.
But he said on Twitter: "Relax everyone, there is no way I would play if it was going to affect Wales identity as an individual nation!"
Jack Wilshere believes his Arsenal team-mate should be allowed to play.
The England midfielder also tweeted: "Don't see what the problem is with the best players from Wales, Scotland and Ireland playing for the Great Britain Olympic team.
"Ok there is rivalry when we play against each other but this is the Olympics, we should come together and compete because we could win gold and its a massive opportunity for us to achieve something together."
Bale and Ramsey have caused controversy by wearing the shirt, saying they want to play for Team GB at the London 2012 Olympics.
Gunners midfielder Ramsey, 20, earlier echoed Bale's sentiments, saying: "If we have the opportunity to play, why not?"
The Football Association of Wales [FAW] is against its players playing in the British team but it has no legal basis on which to stop the players.
FAW vice-president Trefor Lloyd Hughes has expressed disappointment at the British Olympic Association's handling of the controversy.
However, former Wales captain Craig Bellamy has backed Ramsey and Bale's ambitions of playing at the London Games.
Ramsey and Bale are included in Wales manager Gary Speed's squad for their friendly encounter against Norway at Cardiff City Stadium on Saturday, 12 November.
The FAW along with its Scottish and Northern Irish counterparts fear a British team threatens their independence as football nations.
Great Britain will enter a men's football team for the first time since 1960 and will be coached by England Under-21 manager Stuart Pearce at the 2012 event.
Pearce wants the Scottish, Northern Irish and Welsh Football Associations to make their players available for the Olympics.
And Ramsey, who was appointed Wales skipper by Gary Speed in March, has said he would relish the chance to play at the Games.
"You're representing Great Britain in the Olympics. Having the chance to win a gold medal doesn't come around very often," Ramsey told Four Four Two magazine.
"Players, if given the opportunity, should go ahead and do it; I don't see what the problem is. I've spoken to Gareth Bale and he's up for it.
"I think the Welsh are fine with it. It's up to the players."
A Welsh fans' spokesman said Gareth Bale was "ill-advised" to be photographed posing in a British Olympic team supporters' shirt.
Football Supporters Federation Cymru chairman Vince Alm claimed a Great Britain team at the Games would undermine home nations' identities.
"The majority of Welsh supporters are against it," said Alm.
"You can get away with the England and Wales Cricket Board, you can get away with it with rugby, but football is totally different.
"This could be the end of the home unions and I think that would be sad."