The derby day thrashing which changed Alex Ferguson's philosophy
By Phil McNulty
Chief football writer
Last updated on .From the section Football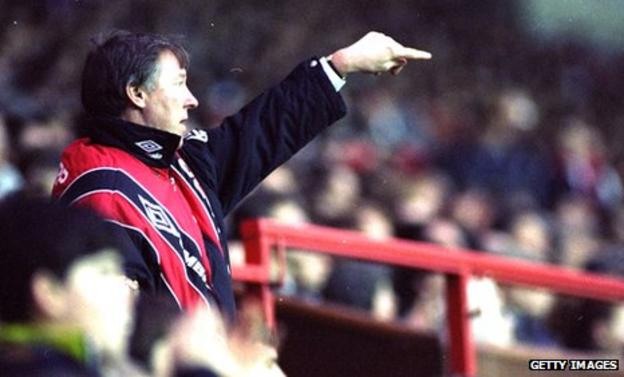 Sir Alex Ferguson's reaction to humiliating defeat provides a history lesson for anyone tempted to write him or Manchester United off in the aftermath of their 6-1 derby thrashing by Manchester City.
The Old Trafford scoreline emphatically symbolised the growing power of City as they lead the Premier League on Ferguson's 25th anniversary of his arrival at United.
He suffered similar embarrassment when United lost 5-1 at Maine Road in September 1989 - and a City player involved believes it was the pivotal moment in Ferguson's managerial career at Old Trafford.
Former Manchester City defender Andy Hinchcliffe scored City's fifth goal and was in attendance at Old Trafford to watch his former club's stunning win in October.
He recalled that 1989 victory and told BBC Sport: "We were looking at what we thought was a watershed moment for City and it probably turned into a watershed moment for United in the way they approached things after that game.
"I think that match was more defining than the Nottingham Forest FA Cup tie in 1990 that people talk about as the game that saved his job.
"After we beat them at Maine Road, Sir Alex realised that things needed to change, things needed to be done very differently because that was unacceptable from his point of view."
Hinchcliffe says that, while such a high for City turned into years of lows, Ferguson used the lessons of that defeat to build the United dynasty that endures today.
"From that game on things went downhill for City and United went from strength to strength," added Hinchcliffe.
"I think it made Sir Alex realise that sometimes you bring all these players in but it's not going to be sudden transformation. City and other clubs have discovered that, when you spend a lot of money and bring top players in, it's not always easy to gel them into a side and make it work.
"That game underlined that. City had four or five youngsters in the side and we turned them over 5-1. Maybe it made Sir Alex and the players realise that, if United were to be successful, things needed to be done differently? They learned very quickly from their mistakes.
"I think a defeat on that scale against their local rivals accelerated a change of emphasis in the way Sir Alex did things.
"He learned lessons in terms of some of the youngsters that he brought in later on. He looked at City and the way they were producing young players. I was part of a youth system that produced five or six players for the first team - and I think that changed Fergie's thinking about how he approached things at United. Young players were brought in through the system and made a fantastic contribution.
"As United went on to great things, it just didn't work out for City. If you look at the record books I played but left quite soon after for Everton and we had David White, Steve Redmond, myself and Paul Lake in that team. We beat United so heavily with all their big stars like Gary Pallister, Paul Ince, Mark Hughes but they were the ones who gathered all that momentum afterwards.
"History is what it is and it shows things worked out very well for that United team but not for City. I really do believe that day was a watershed in the Alex Ferguson era at Old Trafford."